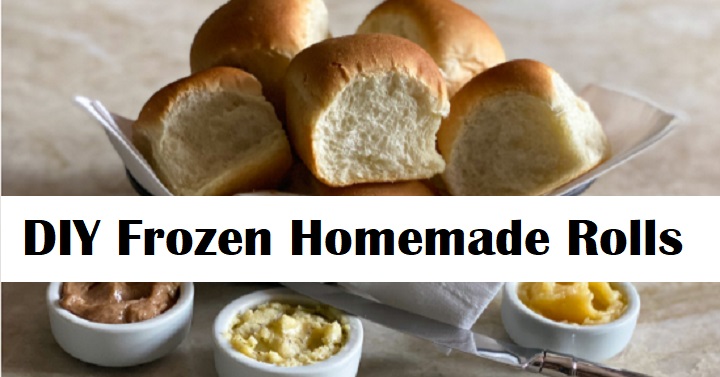 I LOVE a good homemade roll! Sometimes it's not so bad having to make them but more times than not I find myself out of time or just not willing to put forth the effort to make rolls from scratch. That usually leads me to the famous Rhodes frozen dough rolls. Which I love but with the inflation I'm taking a step back and trying to save pennies where I can which lead to me creating my own make ahead freezer rolls!
Guys, I'm sold and don't know why I haven't done this sooner! They're just like the frozen rolls you'd find in the freezer section at your local grocery store. Already rolled and in individual servings making it easy to just bake up the amount you want. Best part is, they taste like home made rolls, yum! There's nothing like a homemade roll slathered with butter (or my favorite, honey butter) to go with your dinner. This recipe was perfect timing with the Christmas holiday here. We were assigned to bring rolls but I just know I'm not going to want to be in the kitchen all day. So I whipped up a batch of these make ahead freezer rolls that are just waiting in the freezer for Saturday.
You can do basic with your rolls and top them off with butter or get fancy. Add some rosemary, grated parmesan, or any other garnish you can think of! You just can't go wrong with these homemade freezer rolls!
Make Ahead Freezer Rolls
2 cups milk
2 Tbsp Yeast
1/4 cup sugar
6-6 1/2 cups flour
2 tsp salt
1/2 cup butter, softened
2 eggs
Begin by heating up your milk until it reaches between 105-110 degrees. (You can do this in the microwave but I prefer on the stove top) Whisk in the yeast and sugar and let sit for 5 minutes. Meanwhile combine 5 cups of flour and salt in a mixer. Cut the butter into small cubs and slowly add to the mixer while on low speed. Set asked. Whisk the eggs into the milk and yeast mixture. Once combined, pour mixture into the flour mixture on low. Gradually add remaining flour if needed until dough forms. Cover the dough and let rise for 1 hour or until doubled in size.
Punch down down to deflate. Divide your down into 3 equal sections (this is easiest to do with a food scale). Each section should make 12 rolls depending on desired size. Place each roll on parchment lined cookie sheet and freeze for 2-3 hours. Remove rolls from cookie sheet and place in ziplock bag for up to 1 month.
To bake: Place frozen rolls about 1-inch apart on lightly greased baking dish. Let rise for about 4 hours or until doubled in size. Preheat oven to 375 degrees, bake for 15-18 minutes or until golden brown. Brush top with melted butter and serve.