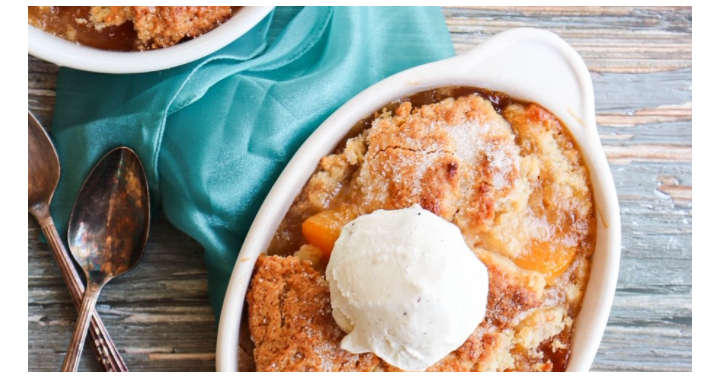 YUM! I love peach season. Recently we got a lot of peaches from my friends' home. They are SO good, but I need to do something with them before they go bad. Cobbler recipes are so yummy and perfect for a September evening. Check out this recipe.
Southern Peach Pie Recipe 
By: Razzle Dazzle Life
INGREDIENTS
PEACHES
2 bags Frozen peaches, 20 ounces each
1 cup Granulated sugar
1 cup Brown sugar
1 teaspoon Vanilla extract
½ teaspoon Almond extract, (optional but recommended)
½ tablespoon Cinnamon
½ teaspoon Nutmeg
2 teaspoons Corn starch
1 teaspoon Cream of tartar
½ stick Butter, unsalted room temperature
2 tablespoons Water
1 teaspoon Fresh lemon juice
COBBLER TOPPING
2 cups Flour
½ cup Granulated sugar
½  cup Brown sugar
2 tablespoons Baking powder
1 tablespoon Cinnamon, reserve ½ for garnishment
1 stick Butter, unsalted cold
¼ cup Boiling hot water (see notes)
½ teaspoon Salt
3 tablespoons Granulated sugar, to dust top of cobbler

INSTRUCTIONS

Preheat oven to 375 degrees
Spray a 9×13 baking dish with non-stick spray. In the same dish, add peaches, sugars, vanilla and almond extract, cinnamon, nutmeg, corn starch, cream of tartar, butter, water, and lemon juice. Mix it until combined.
Cover the dish with foil and cook mixture in the oven for 20 minutes.
While peaches are cooking, combine flour, both sugars, baking powder, salt, and ½ tablespoon of the cinnamon.
Work the cold stick of butter into the flour mixture by breaking it up with a pastry cutter or with hands. Work it in until it looks like coarse meal or crumbles.
Add the hot water and stir together with a spoon until it's just combined. Cobbler should have a drop biscuit-like texture.
Remove peaches from the oven and spoon dough mixture over the peaches. Make each dough droplet about the size of a golf ball leaving a tiny bit of space between each one (see photo and notes below) to ensure they cook through.
Peaches will not be fully covered. Combine sugar and and remaining ½ tablespoon cinnamon and sprinkle the mixture over dough.
Place the dish back in the oven uncovered and cook for an additional 30-45 minutes, until crust is golden brown.