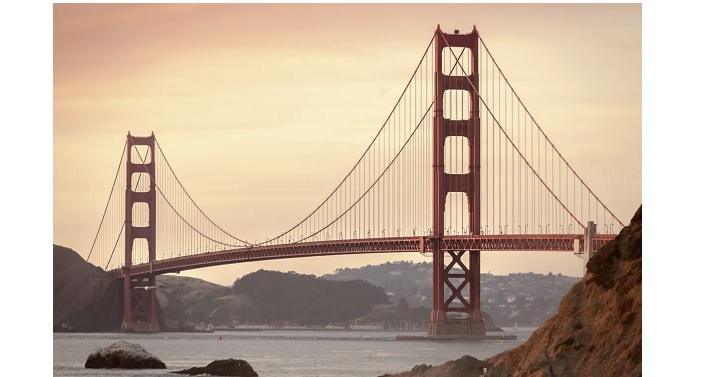 I recently returned from a fun adventure in San Francisco, California and I had to share my must-do list. This time I was NOT traveling with kids. However, most of these activities I would take make kids and do them the next time we are there. San Francisco has so much to offer and I loved every second I was there.
Bike across the San Francisco Bridge to Sausalito. Check with your hotels and see if they offer free bikes or discounts on your bike rental, most do. Biking from Fisherman's Warf to the bridge is around 3 miles and then over the bridge to Sausalito is a bit more, but so worth it. Take your time and enjoy the ride. When you make it to Sausalito stroll through the small down and charming street. Eat a yummy lunch and sit by the water for a little break. Then the best thing to do is ride a ferry back to Fisherman's Warf with your bike. That way you get to see the city by water. It's beautiful.
Ride a cable car. This totally lives up to the hype. You need to "hang out" as you are on the cable car. It's terrifying, but totally worth it. We did it a few times. Be sure to get on the route that goes by Lombardi street. You can even hop off there and walk down the curvy street which is beautiful. A way to save on transportation in the city is to get the multi-day passes if you are there for awhile.  One Cable Car ride is $7, so it will add up. You can also walk the city pretty easily.
Ghirardelli Square is a must. Not only do they have amazing ice creams and sauces, the view from the square is breathtaking. Try to be there at night when the square is lit up with lights and the sun is setting on the bay. There are plenty of places to sit right there by the water and enjoy the view.
Painted Ladies. If you are a Full House fan then this is a fun place to be. I'm still so surprised at how many people love this show and want to see those houses. There is a green hill and park for the kids across from the houses. You could pack a lunch and enjoy being outside.
Find yummy places to eat. You'll notice when you go to San Francisco that the normal chain restaurants are not to be found. It's kind of nice. It makes you get outside of your comfort zone and try something new. We went to a few new places and loved them! Try these out: Codmother's Fish & Chips, Eight AM, El Rancho Grande, Crepe Cafe, and Ghirardelli.