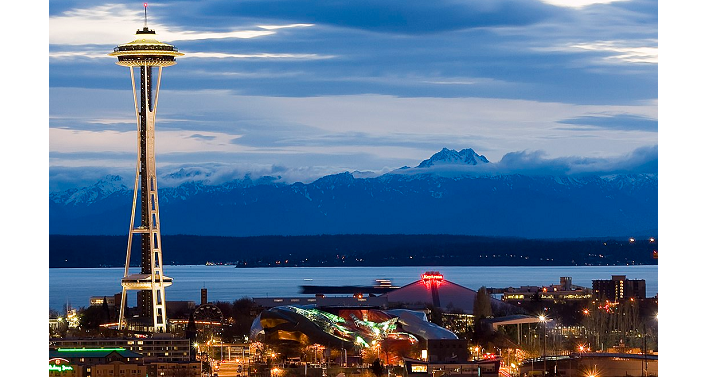 We just returned from a fun trip to Seattle, Washington and we absolutely loved it. I actually grew up going there once a year visiting family, so I know the area quite well. However, it's been a few years since we have been, so it was time. This time around we went without our kiddos, so we were able to do some different adventures! Here are a 5 fun things to do in and around Seattle that we loved.
Walk around and eat at Pikes Place. You may hear all of the time that Pikes Place is a fun place to shop, but did you know it's a fun place to eat too? We were surprised as how many food places are there on the street and so yummy. My suggestion is to go hungry and try some of the fun, unique places that are there. A few of our favorites were Piroshky Piroshky- with fresh salmon biscuits and pastries, Beecher's Handmade Cheese- try their Mac n Cheese, and Pikes Place Chowder. A little ways down by the pier is Ivar's Fish and Chips. They are amazing too.
Take a hike in the forest. The Seattle area has some of my favorite hiking trails. I love the tall pine trees and the smell of rain in the air. Our favorite hikes are Rattlesnake Ridge, Franklin Falls, Oxbow Trail Loop and Denny Creek Trail.
Visit the Space Needle. This was the first time we actually went up the Space Needle and it was pretty incredible. This does cost a bit more money, but if you have the time and means, then it would be fun. The Space Needle has a glass floor and glass benches that are to take pictures on and test your courage! The views of Seattle and the Puget Sound are beautiful on the top.
Take a Ferry. We love to ride a ferry to an island and walk around or ride bikes. You can take your car onto the Ferries and then explore the islands. Try taking a ferry to Bainbridge Island and exploring that area. This is an inexpensive way to travel around and be on a boat!
Enjoy a Harbor or Locks Cruise. Have you heard of the Seattle Locks? They are seriously so cool. You can take a Locks Cruise where you actually go through the locks and see how the process works. Enjoy the cruise on the water from Seattle through the Puget Sound and around the islands or through the locks. It's a beautiful way to see the area.