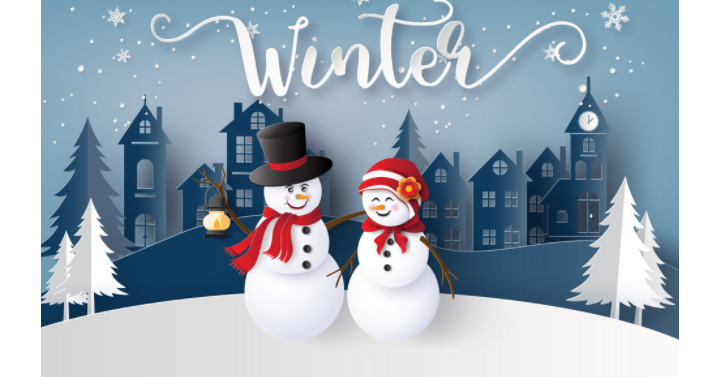 I live in a place where we get a lot of snow during the Winter and the temperature highs hover in the 20s or 30s. It's cold and dark for most of the winter season. When this happens we tend to stay indoors which can create more depression and anxiety. Even in the Winter there are ways you can get outside to play which would help dispel those Winter blues.
The first thing that needs to be done so you can enjoy being outdoor is to be ready for cold weather. I like to go through my winter bins and see what hats, gloves and boots the kids have outgrown. Then I play the game of who can fit into who's winter clothes from last year! I make a list of items that I need to buy for each of us. Have you noticed if you have warm clothes ready to go then you'll go outside more often? I sure do! I know I have a warm hat and gloves (that actually fit and don't have holes!) so I'm ready to go outside.
Have you tried cross country or downhill skiing? If you have then go for it! If not, why not try it out? I've had moments in the mountains when I'm skiing where I see the most magnificent views with trees covered in snow and the bluest sky. If you live close to ski resorts, it would be a great idea to look into taking lessons. Learning something new would help keep your mind busy this winter and give you more to look forward to.
I told my husband that we need to get a dog just so we would go on walks more often! Going on walks during the winter is totally doable. Grab those warm layers and get outside! You can invest in a headlamp and warmer clothes if you have to wait until after work to go on your walk. Breathing in the fresh air will give you a sense of renewal and ready to conquer the day.
Doing some research of finding fun sledding hills and flat walking areas near you will help make your outdoor winter a success. Ask neighbors and friends where you like to go sled or walk. This will help you know what to do when that time comes. Taking the "where do we go?" question out of the equation makes it so much easier to pack your things in the car and head to the sledding hill that you know and you'll be more likely to have the energy to get out.
Lastly, Winter can be a total mind game. Some days you'll have to tell yourself that you're going to build a snowman or go ski or go on a cold walk. Once you're brain in on board then you can do anything. I have to be prepared for some of these things and that's okay! I will tell you though, when you get outside of your home, you'll get rid of some of the winter sadness. Who knows, you just may fall in love with these wintery months.