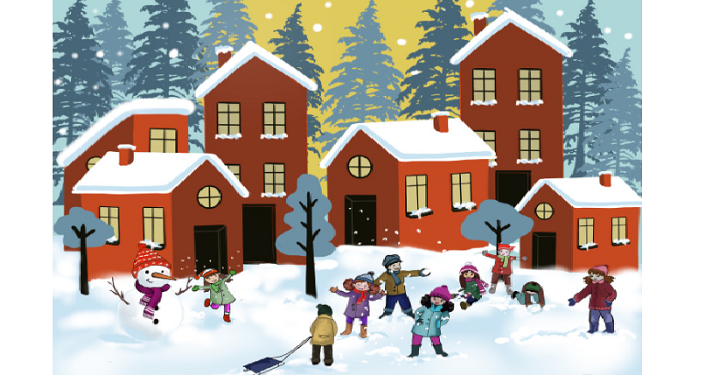 This year my kids have two full weeks off of school.  At first I started stressing about what we could do, but as all of the ideas came, I realized we may not have enough time to do all of them! Most of these cost nothing or are pretty inexpensive activities. You can pick and choose some of your favorites and have a fun Christmas break with your family.
Have a Color Contest – there are so many free printables online for you to use. Just do a quick search on google and a bunch will come up.
Make Hot Chocolate over the stove – create some fun and let the kids help make some hot chocolate over the stove one night.
Game Night – I have lots of memories of family game night! It's something I hope to create with my kids.
Random Acts of Kindness – this can really bring out the Christmas spirit by serving others. Plus there's lots of great ideas you can do while staying safe.
Decorate Christmas Cards – A passion of mine (other than finding deals) is card making/crafts and my girls love to participate. So creating cards together is a great way for us to spend time together and bring in the Christmas spirit.
Go Ice Skating – we did this last year and the kids keep asking when can we go again, definitely a hit! (And we found a good deal using Groupon & Living Social)
Read a Christmas Book – I love finding new Christmas books at the library and it's all free.
Sing Christmas Carols – you don't have to go house to house but why not just sing right in your home!
Research Christmas in another country – I'm pretty interested in this one and think we might have to give it a try this year.
Take Pictures of Snowman – we're always pointing out the snowman so why not take a few pictures of them all!
Try a Pinterest Craft – oh Pinterest, you always have a ton of awesome ideas and there's no short on Christmas crafts you can do with the kids or get some friends together to create something fun.
Bake Cookies to take to the local police station – this one is dear to my heart and I know they'd really appreciate it. (While some areas might not be accepting donations like this you can always ask ahead of time)
Make a new no sew fleece blanket – yes, a nice new warm blanket sounds wonderful!
Eat Candy Canes – you could mix it up and get different favors and try guessing what each one is.
Build a Fort – this is always happening at our house, thank goodness for grandmas that quilt, we have a lot of blankets.
Watch Family Videos – It's so fun going back through old videos and watching them together. It reminds me I need to pull out the recorder (or I guess phones now) and record more of my own kids so they can do the same when they get older.
Try a new recipe – my first pick is going to have to be the desserts
Create a Homemade gift – grandparents love homemade gifts and kids love to make them for them!
Watch a version of a Christmas Carol – always a Christmas classic (check your library if you don't have this one in your own collection)
Drive around town and look at Christmas lights – yep I'm sure we're not alone in doing this – we make it a tradition to head out on Christmas eve!
Build a Snowman – fresh snow is such a great time to get out and build a snowman! Don't forget the carrot nose.
Go sledding – Find a new favorite sledding hill!
Build a Gingerbread house – we started this tradition a few years ago and it's carried through, I love watching the creativity of what the kids will do with the different candies.
Wear Christmas Jammies all day – this one I'm excited about cause I'll be joining in too
Cut out snowflakes – this would be fun and to do and then maybe share them with a near by nursing home (you could hang them on the outside of their window)
Toy donation bag – we do this all month long. We have a "Santa" bag the kids fill up with their unused/no longer play with toys that Santa takes back on Christmas Eve and replaces with their new toys.
Picnic by the tree – this is fun to do while the kids are out of school and a way to break up the day a bit.