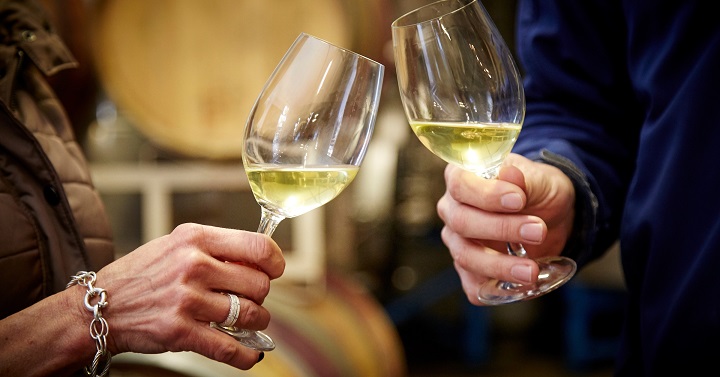 For the last couple of years my husband and myself have come up with 12 different date night ideas. He figures out 6 of them and I'd come up with the other 6. Last year we had to get creative and we made them all Covid friendly, which meant at home during that time. To say we had fun would be an understatement. It was a great way for us to reconnect with each other after the kids went to bed. So if you're needing some fun at home date ideas, we've got you! Here are 20 different at home dates you can easily pull together!
Movie & Popcorn – snag a Redbox or find a new movie on Netflix/Hulu/Amazon Movies or anywhere else you have a subscription to and pop some of your favorite popcorn

Comedy Night – we found some hilarious comedy shows on YouTube.

Paint Night – set the table up for a little Bob Ross paint night (this was one of my favorites and I'm not a painter)

Music Night – put together a favorites playlist of songs that remind you of each other.

Read Together – simply snag your favorite book and sit down with a warm cup of hot chocolate

Listen to a Book Together – maybe you want to read a new book together, set up a date night to get you started

Board Games – we love pulling out board games and having a little friendly competition

Write a Letter – the art of writing to each other is not lost! Bring it back and exchange them over a bubble drink.

Make Your Own Ice Cream – simple and easy idea to pull together, you can even add your own favorite toppings.

Go on a Walk – a simple walk around the block is sometimes the perfect break I need to reconnect with my husband

Learn to Massage Each Other – there is so much information out there that can teach you new techniques to massage each other. One tip, Bath and Body has the best massage oil!

Italian Night – make your favorite Italian meal together and follow it up with some Italian ice!

Plan Your Dream Vacation – pull up google maps and checkout your dream vacation and where you'd like to stop at

Meditate Together – what a powerful way to connect with each other

Candle Light Dinner – this would be perfect to enjoy together after the kids are asleep

Puzzles – I love puzzles, my husband not so much but he's a good sport and we'll put together one as a date night

Watch Family Movies – it's so fun going back and seeing what life used to be like for each other

Roast Marshmallows – we're lucky enough to have a fire pit but you can do this even over the stove

Work on The House – we have been known to paint a bedroom after the kids go down for bed. The project is so much funner to do together

Dance – turn on that song you danced to at your wedding and just sway back and forth
Plus one bonus one:
Body Paint Night – this is one we have yet to do but have all the supplies for! I'm really looking forward to this one and creating some good laughs!