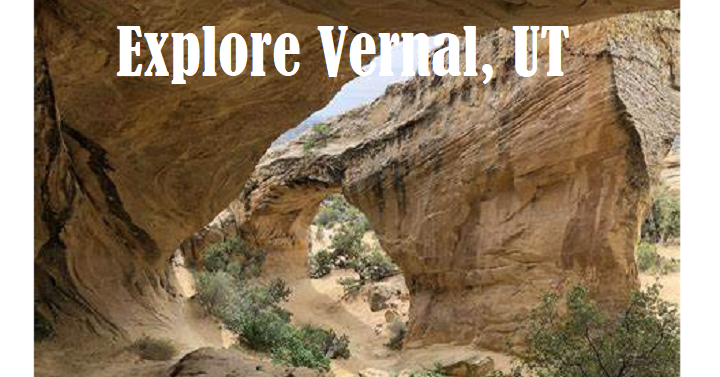 Maybe you have heard of it before but Vernal Utah is known as Utah's Dinosaur Land and rightfully so. You can find an incredible amount of dinosaur fossils, footprints and other prehistoric sites here. There are so many unique and fun things to do in "dinosaur land". From checking out dinosaur bones to exploring the great mountain regions! Here's some of our favorite things we did while out there and what we highly recommend others to see as well.
Dinosaur Nation Monument Visitors Center – This was one of our first stops after we got into town. (You do have to pay to enter the National Monument but don't forget, if you have a 4th-5th grader, you can get in for FREE thanks to Every Kid in a Park! Other wise the cost is $25/vehicle)  Not only were we able to pick up a map there but they gave us some great information as to which hikes would be best, where we could find shade, stops we should make along the way and things we didn't want to miss. I was impressed and so pleased with all the questions they answered and additional information they gave. We also were able to get our National Parks book stamped inside! If you don't already have a National Parks Passport I highly recommend getting on. It's been fun for our kids to take on our adventures to document all the National Parks we've visited! (You can pick one up while you're at the visitors center or Amazon sells them as well.) And, they have their Jr Ranger program that your kids can patriciate in. Just ask the front desk for the Jr. Ranger booklets. Your kids can fill them out while you wonder around the National Park and then turn them in once they're complete. They'll earn a Jr. Ranger badge and get to keep their booklets for great memories! (all for FREE)
Dinosaur Nation Monument Quarry – This is inside The Dinosaur National Monument but worth the trip! This is where the "Wall of Bones" is found as well as the Exhibit Hall where you can learn about many of the dinosaurs found right there. Over 1,500 fossils are on display, still embedded in the cliff-side where the ancient creatures came to rest millions of years ago during the late Jurassic period. You'll even have the opportunity to touch some of the bones. We opted to drive up to the Quarry but there is a walking trial you can take that goes from the Visitors Center up to the Quarry (I don't recommend taking this trail if it's hot, there's not a lot of shade along this trail). Or you can catch the trolley that runs from the Visitors Center to the Quarry. (FREE to ride) Keep in mind right now you are required to have a entrance ticket to get into the Quarry. You can make your reservations online. 
Box Canyon Trial (inside Dinosaur Nation Monument) – This was a beautiful trail to take with lots of shade (which was great for the warmer days we were there). It's a short 1/2 mile round trip trail that's easy and perfect for all fitness levels. It's located right next to Josie's Cabin which had a couple picnic tables located around the property where we could eat lunch. There is also Hog Canyon trail located right there if you're looking to explore a little more. This one is a little longer at 1.5 miles but also rated as easy. On your way out to these trails don't forget to checkout the Fremont Mystery where you'll see some great petroglyphs (we prefer these petroglyphs over the Swelter Shelter Petroglyphs but both are stunning) and Turtle Rock is fun to point out to the kids.
Utah Field House of Nature History – The museum is located in town and a great way to get out of the heat! They have lots of hands on activities the kids (and adults) can enjoy. You start with a short educational film about paleontology, dinosaurs and prehistoric Utah then make your way around the museum. There are a variety of rocks on display and even some that come to life under ultraviolet lights. Don't forget to step outside for a walk around the Dinosaur Garden! There are 14 unique life-size models of dinosaurs set among local vegetation. (The museum cost $6 for adults, $3 for children and seniors and kids 5 and under are free)
Jones Hole Trail – this isn't quite Dinosaur related but worth checking out while you're in Vernal. You'll even see some petroglyphs along the way. I'll warn you now, pack LOTS of water! We ended up needing to portion water on our way back to the cars since we didn't pack enough, so don't be like us! This trail runs from the Jones Hole Federal Fish Hatchery down to the Green River. We didn't go all the way to the river but took a side trail over to see the waterfall. Even with the water shortage it was fun to jump around and climb up the waterfall. We took children as young as 3 up to 11 and they were able to walk it (although it was a lot on their little legs). 
Moonshine Arches – I think this was my favorite stop! We did this the night we got into Vernal since we arrive later than planned. Luckily we had just enough time to get out to the arches and back before the sun set. You'll take 191 out of town until you come to the sign Moonshine Arches (located just after mile marker 359. Continue along the dirt road until you come to the fork in the road, stay to the left! Follow that road until you reach the parking area. We then used the All Trails app to guide us on the trail – you'll want this. There's a lot of forks in the trail that aren't marked so I highly recommend making sure you have the app loaded before you go. But it's worth it! It's only 1.4 miles out and back (with a few steeper parts to climb but doable for younger children). Make sure to watch out for snakes!
Red Fleet State Park – The views at this lake were breathtaking! They had just enough sand area for us to enjoy while allowing the kids to play in the water. It does drop off rather quickly so please be careful. We kept kids in life vest anytime they were in the water or playing on the paddle board or kayak. This area was perfect for both as it's a no wake zone so you're not fighting the waves from the boats. They do allow moterboats/jet skis on the water though so bring all your water toys with you.
Hopefully this gives you some fun ideas of what you can do while you're in Dinosaur Land!