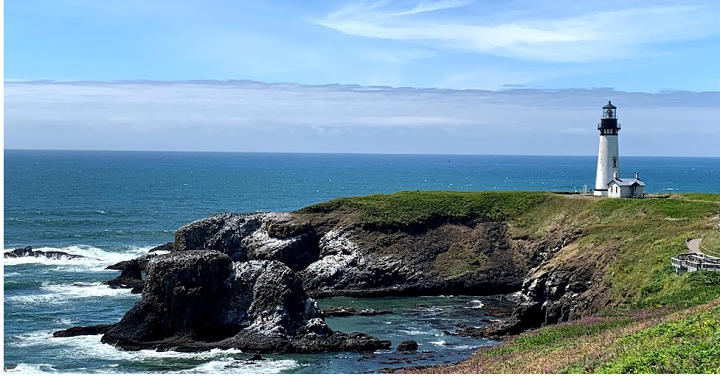 We recently returned from a trip on the Oregon Coast and it was absolutely breathtaking. It was the perfect destination to escape the heat and see some really beautiful places. It was the first time for our kids and they loved the kite flying, star fish, jumping in the waves and searching for seashells. Along our trip we found some awesome beaches, and not so awesome ones. So, for your next trip, check out these 5 that we would definitely go to again!
Cape Lookout State Park. This was by far our favorite beach to explore ocean life. Biggest tip for this beach is to go at LOW tide. Once on the beach, walk to the cliffs and look at the mussels and if you're lucky you'll see a starfish. We saw three! There is a cove to explore and a little waterfall coming off the cliffs. It's absolutely beautiful. The beach has the perfect sand to play for hours. Spend some time collecting seashells too.
Yaquina Head Lighthouse. I love lighthouses, so this was a must. With Covid-19 going on, this lighthouse was closed, but we could park about a mile from it and walk to it on foot. It was worth the walk. Look above at the beautiful picture we snapped. Definitely windy so bring your hoodie, but so pretty.
Cape Perpetua/ Thor's Well. This is a place you can go both LOW tide and HIGH tide. Let me explain.  If you want to see Thor's Well, then you need to plan on going at HIGH tide. That will give you the best view of the water going through the hole and splashing along the cliffs. If you want to see tide pools and walk along the cliffs, then go at LOW tide. Both are fun options. While there, be sure to do a hike at Cape Perpetua.
Mike Miller State Park. This is located in South Beach. It has an educational hike that the kids absolutely loved. It was in trees and so pretty. Along the way they had markers that you could look up on your phone and read about the science behind that forest. Definitely worth it if you're in that area.
Depoe Bay. If you want to see whales this is the place to be. There is a wall at Depoe Bay that you can stand by and see the whales in the ocean, you don't even need to be on a boat! Check out the cute town and candy stores. Fun little town to visit.