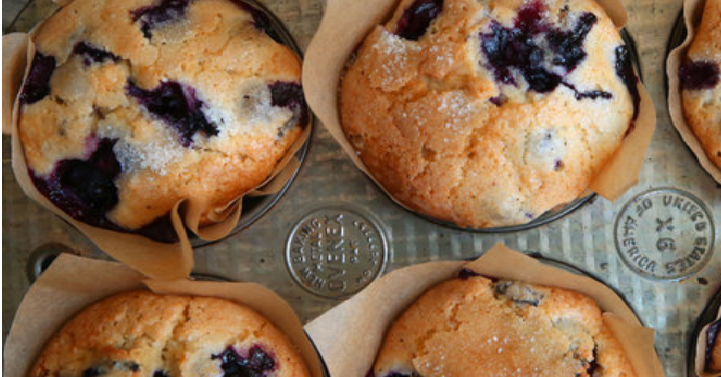 Have you noticed blueberries on sale lately? I sure have. My kids like to eat a few fresh blueberries, but then I'm left with most of the carton uneaten. With that carton I decided to try and find a good blueberry muffin recipe ….I found it! This recipe and picture above were featured in the New York Times cooking. It's truly amazing. My kids eat them so fast that I tend to double the recipe. They are great for lunches too.
Jordan Marsh's Blueberry Muffins Recipe by MARIAN BURROS
INGREDIENTS
½

 

cup softened butter

1 ¼

 

cups sugar

2

 

eggs

1

 

teaspoon vanilla extract

2

 

cups flour

½

 

teaspoon salt

2

 

teaspoons baking powder

½

 

cup milk

2

 

cups blueberries, washed, drained and picked over

3

 

teaspoons sugar
PREPARATION
Preheat the oven to 375.
Cream the butter and 1 1/4 cups sugar until light.
Add the eggs, one at a time, beating well after each addition. Add vanilla.
Sift together the flour, salt and baking powder, and add to the creamed mixture alternately with the milk.
Crush 1/2 cup blueberries with a fork, and mix into the batter. Fold in the remaining whole berries.
Line a 12 cup standard muffin tin with cupcake liners, and fill with batter. Sprinkle the 3 teaspoons sugar over the tops of the muffins, and bake at 375 degrees for about 30-35 minutes.
Remove muffins from tin and cool at least 30 minutes.