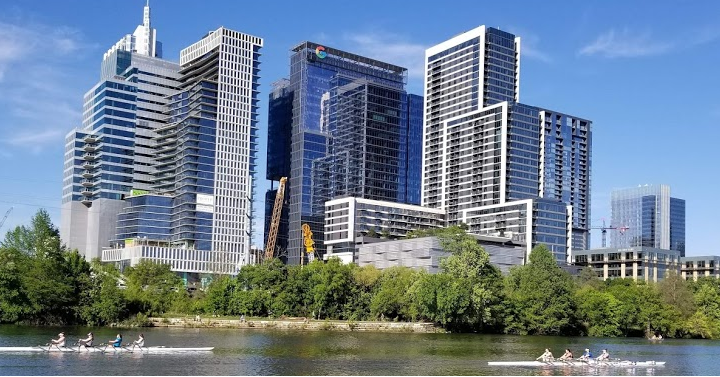 We recently got back from a trip to Austin, Texas. It was our first time exploring the city and it was simply amazing. It's a city with a great variety of things to do and beauty is all around. We have 4 kids, so the activities we chose were more kid friendly, however I'm pretty sure all ages would enjoy these. Here are our top 5 spots to visit in Austin, Texas.
Bike around Lady Bird Lake. We rented bikes from a local bike shop and rode the full 10 miles on the Ann and Roy Butler Hike and Bike trail. It was perfect weather and beautiful. There are a lot of places to stop if you need a quick break. We were able to see a ton of turtles in the lake, Texas bluebonnets scattered around the path, and a group of people rowing on the lake. You can pack a lunch and bike around, taking as many stops as you would want. This was a favorite spot of ours.
Hike to Mt. Bonnell. This is more of a walk up 115 (or so) stairs. Once you reach the top you'll see a breathtaking view of the river and also the city of Austin. This is the highest point in Austin which makes the view great. We were able to see it at sunset which made it even more spectacular.
Zilker Park. This park is close to the lake/river too. There is a cute train that takes you on a tour of the park. It's a good 25 minute train ride, so you'll be able to see a lot of the park. Our kids love trains, so this was definitely a highlight. Be sure to check out their hours and prices before you get there. This park is HUGE and a good one to bring a ball and go play.
See the Austin Bats. Did you know this was a thing? Apparently around 1.5 million bats live under the Congress Avenue Bridge. At dusk during certain times of the year, you can see them fly all around you from that bridge. If you think that's cool, then for sure go enjoy this unique experience.
Eat Yummy Food. It's true this isn't just one stop, but whenever we visit a new city we like to try unique places to eat. When in Austin, you'll want to eat some Texas BBQ, Torchy's Tacos and try out the delicious donuts at Gordough's. You can always check out Yelp and see what everyone is loving in the city.