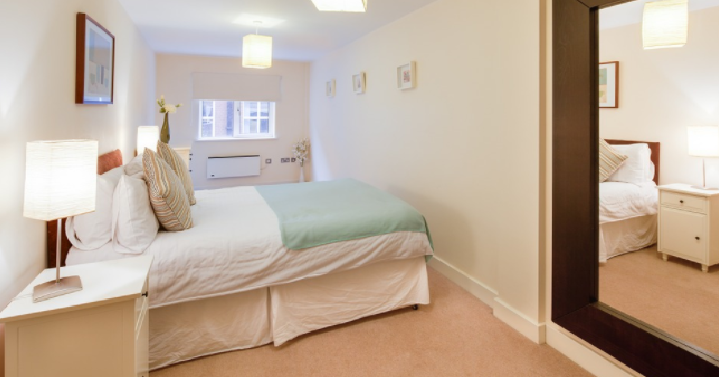 If you have small rooms in your home, you may notice how easy it is to overcrowd the room leaving it unorganized, cluttered, and dirty. There are some simple ways to make a small room more bright, open and clean. These steps are pretty simple, but they do take some time to implement. In the end though, it will make these rooms feel more open and give you more room.
Take Out Bulky Furniture. Look around your room and see what you can get rid of. Are there items that you don't really need? Are there items like dressers, night stands, end tables, coffee tables that are just taking up space and aren't serving a purpose? Take those items out and either don't replace them or replace them with smaller more compact items.
Use Floating Shelves or Under the Bed Drawers. After you take out your bulky furniture you can replace them with either floating shelves or under the bed drawers. These are fantastic for saving space and they look great too. IKEA has some awesome products like these floating shelves instead of night stands. Or, get rid of dressers and use these drawers for under the bed. They hold a TON!
Use Light Colored Paint and Decor. With a smaller room you want to have light colored paint and decor. This will make the room look brighter and more inviting. Have you ever been in a room with super dark, black furniture and dark curtains? It makes it feel more cramped. When you use whites, yellows, pastel colors it will give the room a face lift and make it bright. Consider lighter curtains as well.
Use Mirrors. This is a super simple way to  make the room look larger. Amazon has some great options and a ton of style to choose from.
Add a little Shiplap. If you watch any home improvement show, you will know that Shiplap is the new thing for updating your rooms. It adds a little style to your room. We recently did this to our small room and it makes the wall look longer which makes the room look bigger. Plus, we painted it a nice, clean white which makes it bright and inviting.