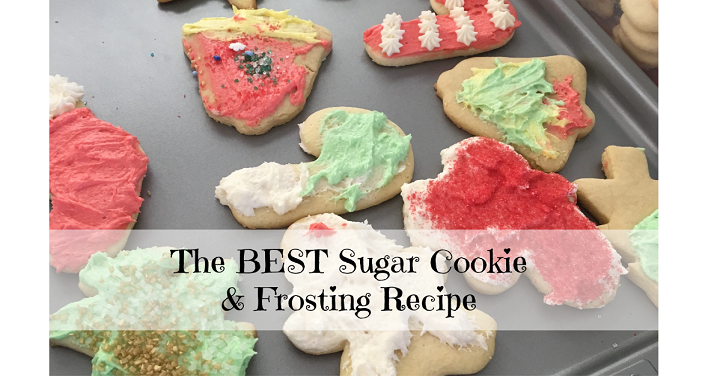 It's a family tradition that's been going on for generations and one that I have strong memories of. We always get together and decoration sugar cookies to hand out to neighbors and put on a plate for Santa. This recipe is by far my favorite and super easy to throw together!
You'll find this recipe goes a long way when you make the full thing so if it's just my cute little family I'll half it and it will make a good 50 sugar cookies still. As for the frosting I make the full recipe so we can have some of every color we need to decorate with. Then I pull out our sprinkles and we go to town.
Sugar Cookies (Cut Out)
2 eggs
1 cup butter
2 cups sugar
1 cup sour cream
1 tsp vanilla
6 cups flour
3/4 tsp salt
2 tsp baking soda
Mix eggs, butter and sugar. Add sour cream and vanilla. Combine flour, salt and baking soda together in separate bowl; then add the wet ingredients. (I find I have to refrigerate them for at least an hour before trying to roll them out and cut with cookie cutters. You can refrigerate for longer if needed) Bake at 375 degrees for 5-8 minutes (DO NOT over bake – you'll start to see the bottom go brown when they're ready to come out of the oven)
Cream Cheese Frosting
2 lbs powdered sugar
1 stick butter (1/2cup), softened
1 (8oz) package cream cheese, softened
1/2 cup shortening
2 tsp vanilla
Cream sugar and butter. Add cream cheese and shortening, mix well. Stir in vanilla. Beat 10 minutes (can add drops of milk if desired but I don't usually).
I hope you enjoy making memories and spending time with your family this Christmas season. It's a wonderful time of year! And if you're in an unfortunate situation in which those you love are far away or no longer here, know that we wish you a Merry Christmas and send warm hugs your way!