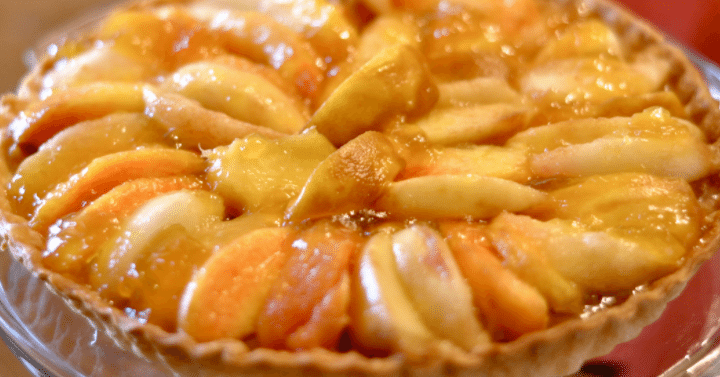 It's peach season! Right now is a great time to load up on peaches and make all sorts of yummy desserts.  If you have peach trees and are overloaded with peaches, be sure to check out this easy step by step guide to canning peaches. Then with all of your leftovers, make this yummy dessert. This easy peach pie recipe is a yearly tradition that the whole family loves.
Easy Fresh Peach Pie
This recipe makes 2 pies
1 Can Frozen Orange Juice (slightly melted)
2 Cans Water
1 1/4 Cup Sugar (less if peaches are super sweet)
1/2 Cup Cornstarch
1/4 teaspoon Salt
Cut up Peaches (4-5 depending on size)
2 Pastry Pie Shells  (cooked)
Whip Cream (optional)
Directions:
Cook sugar, cornstarch, salt, and water until thick. Cool slightly and add in the frozen orange juice. Stir until orange juice has melted and mixed in. Chill slightly and add peach slices. Put the mixture in your cooked pie crusts.  Chill in the refrigerator until set. Top with whip cream and serve! YUM.