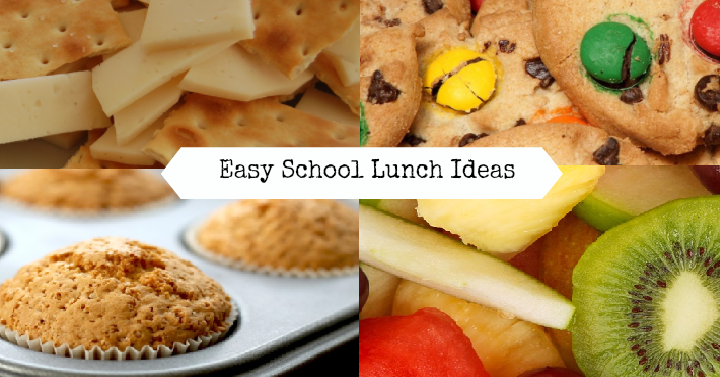 For most of us school will be starting soon if it hasn't started already. I don't know about you, but I'm stressing about school lunches. My kids are pretty different in their eating habits which makes me frustrated at times. I've decided to try something new this year and mix and match different combinations of entrees/snacks, veggies/fruits, treats, and a drink. This way I can have those different items that will please all types of eaters. Hopefully this will help you out too! Here is what you do…
Depending on how big of appetite your kids have will determine how many items to put in. I would normally choose 1-2  items from each of the categories below. Treats would only be once or twice a week.
Entree/Snacks:
Sandwich (Meat, PB&J, Tuna)
Pizza
Quesadilla
Muffins
Hot Dog
Pita & Hummus
Make your own lunchable- cut up meat, cheese & crackers
Spreadable cheese & crackers
Boiled Eggs
Go-Gurts
Cheese Sticks
Popcorn
Pretzels
Peanuts
Granola Bars
Fruit/Veggies:
Carrot Sticks
Celery with peanut butter
Broccoli with ranch
Cucumbers
Cherry Tomatoes
Watermelon
Grapes
Apple Slices
Orange Slices
Banana
Dried Fruits
Peach Slices
Pear Slices
Mandarin Oranges
Cherries
Cantaloupe
Kiwi
Treats:
Fruit Snacks
Rice Krispie Treat
Brownies
Cookies
Fruit Leather
Drinks:
Water
Milk
Chocolate Milk
Capri Suns
Juice Bottles
I always like to write a quick note and hide it in my kids lunches. Sometimes it's a good luck note, an I love you note, or even a joke or riddle. They love it!