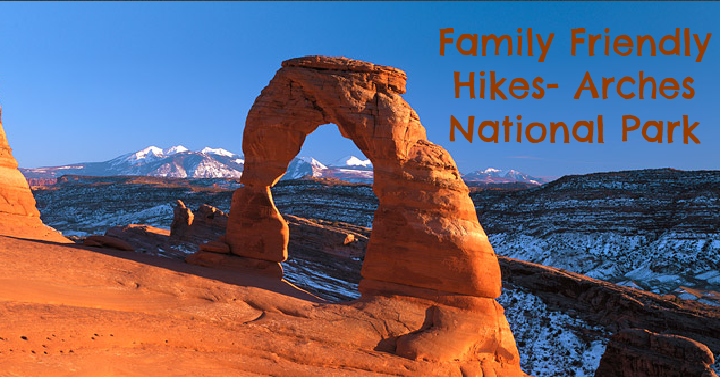 National Parks are super busy this time of year. Because it's awesome weather! When you're out hiking and exploring you usually want it to be on the cooler side instead of HOT. One super popular National Park located in Utah, is Arches National Park. They have a good variety of kid friendly hikes and more advanced hikes. If you are traveling with your family, here are a few hikes you won't want to miss:
Balanced Rock: 0.3 Miles
This is a super easy walk around the base of Balanced Rock. This could be a good warm up walk for the kids to get going!
Sand Dune Arch: 0.3 Miles
Easy trail that takes you to a heavenly sand area for kids. It's a short enough hike you could bring a few sand toys for your kids to play with once you are at the arch. Be aware most of this area is in the shade so it's a great one for the afternoon when it's getting warm outside.
Skyline Arch: 0.4 Miles
Easy trail that brings you closer to see the Skyline Arch.
Double Arch: 0.5 Miles
Easy trial with some loose sand that ends at the double arch. Fun to climb up the rocks and see the view.
Windows Trail: 1.0 Mile
This is an easy hike to see the North and South Windows. Another fun one to climb up the rocks and see the view.
Landscape Arch 1.6 Miles
Moderately Easy hike with gravel surface. Beautiful, long arch to see at the end.
Delicate Arch: 3.0 Miles
This is a more difficult trail that has you climbing rocks and elevation. It's also in the sun for the majority of the hike. However, this is a classic and one that you won't want to miss. Even my young kids of 7,5 and 2 made it the whole way. We did have a carrier for the 2 year old. I would recommend bringing snacks/treats for stopping points and to keep the kids motivated. Bring lots of water too! Definitely a hike that is worth it at the end.
The Big Sand Hill
This is NOT in Arches National Park. It's actually located directly across the street from the entrance to the park and is FREE. You can't miss it. It's a HUGE sand hill that is super fun for the kids to hike up and slide down. Grab your sand toys and you could be there awhile!
A few Tips for Arches National Park:
– Grab a Map from the Visitors Center and talk with a ranger about ideas and suggestions for your family.
-Do the Junior Ranger program. Just grab a Junior Ranger booklet from the visitors center and do those things it says while you are exploring the park. Then when you are done you can go back to the visitors center and take the pledge and get your official badge.
-Bring plenty of food and water. There are no food or lodging facilities in Arches. So be sure you have lunch packed and plenty of food for your family the whole day. We tend to stay longer than we think, so plan wisely!
-Keep applying sunscreen. This may sound like a no brainer. But every time we go to Arches we get sunburned. Whether it's in the morning or afternoon. Even if it's chilly, put in some sunscreen so you won't be hurting later.