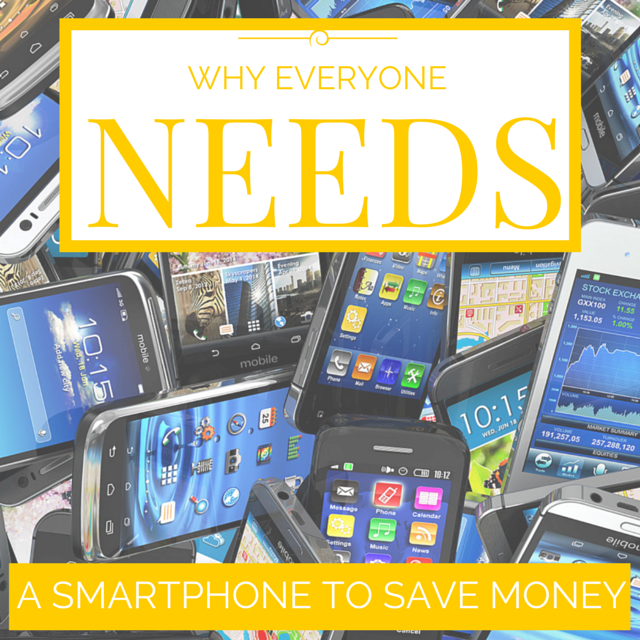 I've briefly talked about this before, but everything is moving digital. Offers are going digital, coupons are going digital, even Freebies2Deals is digital with the Freebies2Deals App!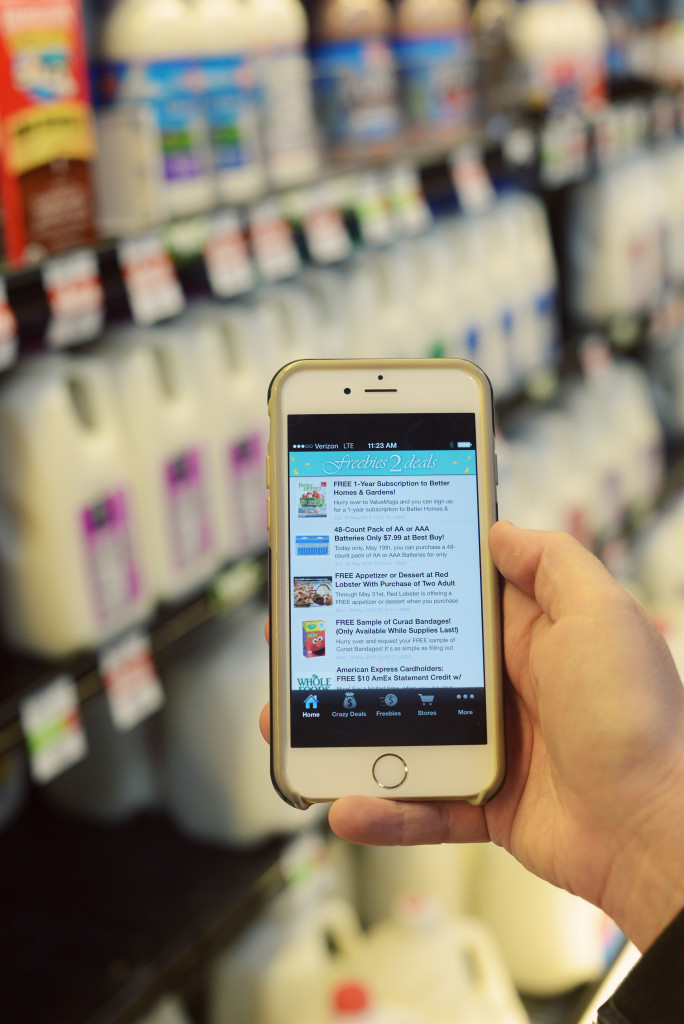 There are SO many ways to save money with Apps popping up left and right that you really need to have a SmartPhone so you can access all of them. Everyone has an app these days and they are all offering freebies, high-value discounts, coupons and more if you use them in-store. So in my opinion, a SmartPhone is something every family should have at least one of so you can save on your groceries and the rest of your in-store shopping.
I know it may be an added expense you feel like your family can't afford. However, all you need to do is find a promotion that makes your SmartPhone FREE.  Then, sign up for a great deal for unlimited data or included data.  If you do both of those things, the cost will be much less than you thought.  And honestly, you will save more just by using eCoupons on a Grocery App than you will be paying each month for your cell phone data plan.
If money is tight, remember that not everyone in your family needs a Smart Phone… just one of you–whomever does the shopping!  Or if you have an iPad or Tablet, those will work in-store as well with the apps I am referring to.  So choose whatever one you want.  But of course, you know that the tablets and iPads will cost a lot more up front vs. a data plan. So do a Pros & Cons list if you need to!
What if I am Still in My Contract with My Current Cell Phone Provider??
A lot of you might be in a contract with your current cell phone provider.  If that is the case, you might want to consider purchasing an UNLOCKED SmartPhone. Just buy the new one and activate it with your current cell phone provider & plan. (Unless you are renting the current phone you own from your provider.)  
**IMPORTANT:  Each UNLOCKED phone will tell you which providers it will work with.  So MAKE SURE you read the fine print of whatever phone you purchase so you know that it will work with your current provider–even though it is unlocked.
If you see GSM Unlocked, that means that the unlocked phone will only work with GSM cellular networks using SIM cards, which are: AT&T, T-Mobile and H2O Wireless.
Verizon Wireless and Sprint use CDMA signals. So they are NOT associated with regular unlocked phones.
**You might also want to call your current provider to make sure that they will link your current cell phone number/plan to a new Smart Phone that has been unlocked.  Rules change all of the time and double-checking will make sure you don't purchase something you can't use.
Where Can I Buy UNLOCKED Phones?
Here are the top places to look to buy an UNLOCKED GSM phone.  Please be careful not to purchase from 3rd party sites or from auction type sites.  You might not actually be buying an unlocked phone and it's best to purchase from an authorized provider.
UNLOCKED Cell Phone Deals from Walmart: It looks like they have the lowest prices on SmartPhones. So if cost is your main concern, and you don't really care about brand, this would be a great option.
UNLOCKED Cell Phone Deals from Best Buy: On the left side, choose the brand or operating system you want to help filter down your choices.
UNLOCKED Cell Phone Deals from Amazon:  Use the left side of the page to help filter what kind of phone, price point, percentage off or operating system you are looking for.
Current Promotions on Smart Phones to Check Out:
All of these deals or promotions typically come with a new agreement, new activation or from switching to a new carrier.  But if your contract is up, or if you are able to switch without a fee, these are some of the BEST deals to help you get that SmartPhone!
Trade in your old cell phone to Verizon Wireless and get a FREE $200 Trade-in Credit, Plus a $100 Bill Credit! Details and steps are all over here.  However, this is what me and my husband both did 6 months ago when we wanted to upgrade to the iPhone 6.  We traded in our old iPhones, got $200 Verizon Gift Cards that we used to pay our cell phone bills and it made our new iPhone 6 phones free.
FREE Droid Max from Verizon Wireless with 2 Year Activation.
And multiple phones are only $.99 with a 2 Year Activation from Verizon Wireless as well.  (Shown above)
AT&T Next offers include a FREE $200 Best Buy Gift Card for NEW Customers joining AT&T. Pricing starts at $18.34 a month for 30 months. **Make sure you read the fine print on this one so you understand how the Next program works. 
You can find the rest of the Best Buy promotional offers on this page for Sprint, AT&T, Verizon and LG. 
And my last tip… don't forget Walmart!  They have Family Talk Wireless (no contract) and their monthly plans are affordable. Talk, Text and Data from only $29.88 a month!  They also have some great deals on cell phones.  They aren't free.  But you also aren't signing a 2-year contract.  So you will need to decide which works better for your family.
No matter how you get your hands on a SmartPhone to help your family start saving more money, you MUST read ALL fine print before you purchase a new phone or start a new service agreement!  I can't stress this portion of this post enough.  There are too many variables and things that change day to day with plans and cell phone prices.  So please make sure you know ALL of the costs associated with whatever plan or cell phone you choose. Those details will be listed before you hit submit on your order.  So as long as you read them and see the final/total cost beforehand, you should be good to go!
Now that you have a SmartPhone, or already had one, I am going to be working on a list of all of the Money-Saving Apps you should have on your phone to help you save money everywhere!!  
If you have a favorite, please comment and let me know!  I don't want to miss one and would love to have a very extensive list of all of the apps in one place for you guys. 🙂