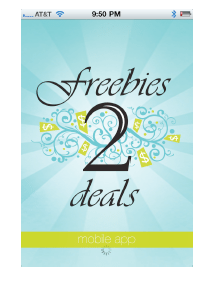 With all of the changes on Facebook, people not seeing all of the deals that have been posted… or those who just aren't online all day- it can make it really hard to jump on those super "HOT" Deals that usually sell out fast.
So, I have created a FREE Freebies2Deals App for both the iPhone and any Android Phone!! YAY!
Features of the App:
Lists ALL of the Deals posts on Freebies2Deals almost as soon as they are posted. You just have to refresh your screen.

(Depending on your device, you might have to swipe down to get the new deals to load each time you open the app.)

Shopping at your local grocery store and want to know which deals to pick up? You can see the entire Grocery Store Matchup off your phone!
Plus, all of the store coupon policies are listed. So if you have problems at Walmart, just whip out your phone and the coupon policy will be listed there!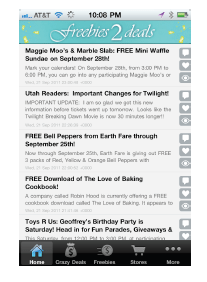 iPhone Freebies2Deals App:
To download the Free iPhone Freebies2Deals App, just search for it on your phone. Or, you can go here: https://itunes.apple.com/us/app/freebies-2-deals/id468263673
For iPhone Users, it should be pretty self explanatory. So, just download the app and make sure you refresh the page each time you look at it by swiping down. If you don't, you may not be seeing the newest deals posted on the site. Enjoy!
Android Freebies2Deals App:
To download the Android Freebies2Deals App, just search for Freebies2Deals in the Android Marketplace. Or, you can download it here: https://market.android.com/details?id=com.appmakr.app310059
The only thing that is different on the Android App is that there isn't a menu bar at the bottom. Instead, you will see a 3 dash line in the bottom left-hand corner. Just push that up and the entire menu will drop down like this:
I hope you guys are as excited as I am to have this fun freebie!! It will definitely make using and finding deals a TON easier. Plus, Facebook is going to be making even more changes. So, while you might not be seeing all of the deals there, you will ALWAYS see all of the deals on the Apps! So, when you are away from your computer, you won't miss anything you have been waiting to get a good deal on.
By the way, both of these apps will work on the iPad and any Android Tablet. So double bonus!!
**If you guys could do me a favor and give the apps a rating once you start using them, it will help others who have never heard of Freebies2Deals who are searching for a good deal and coupon app. Then, we can share the Deal Hunting Love with everyone!! Thanks guys!!