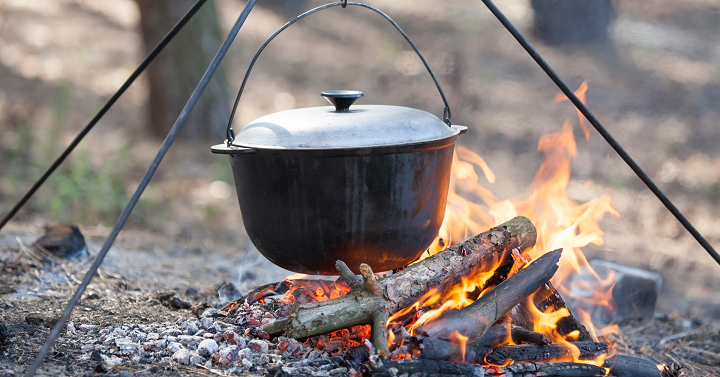 We've been enjoying a lot of our summer outdoors! It's one of the best ways for us to unwind and get away from everything as a family. But being mom I still need to cook and make sure everyone has full tummies, so I've put together some easy meals you can plan for when camping!
Hotdogs – maybe a no brainer but hotdogs with buns, chips and maybe some fruit is a great meal to plan for while camping. You can roast them over the fire or just boil them in water. Don't forget about pigs in a blanket as well. A great alternative to regular hot dogs.
Breakfast Burritos – you can easily make these ahead of time and take them frozen or assemble them the morning of. Either way it's a great way to wake up to something yummy.
Bagels – we love having cream cheese and bagels in the morning. We'll get a variety bag so everyone has one they'll like. If you're not having bagels in the morning it's usually cereal.
BBQ Sandwiches – This is another great make ahead meal you can plan for either lunch or dinner. I just cook the meat in the crock pot before we go and store it in an airtight container. Then slap it on some buns and you're good to go.
Kebabs – These are perfect to cook over a campfire. You can even have everyone make their own with everything you've brought already chopped up and ready to poke. We'll put peppers, chicken, pineapple, mushrooms and more on each stick.
Chili – If you're headed somewhere cold, this is a must. I will usually cook my meat at home and then bring everything to dump in the pot together and heat up. We'll serve it with rolls or corn bread, which ever I have on hand or time to make.
Salsa and Chips – don't forget about the snacks. We usually go hiking or walking while we're out camping which means often times when we get back we're hungry but it's between meals. So a fun and easy snack to have on hand is some salsa and chips.
Walking Tacos – If you haven't heard of these before they're awesome for so many different reasons! Just get those one person chip bags and add your taco toppings to the bag! We'll usually have sliced tomatoes, cheese, olives, lettuces, sour cream and salsa.
Pasta Salad – I have a cold pasta salad recipe that's yummy to have ready to eat. It's simple to throw together and honestly, it's better the next day because it's been marinading all night.