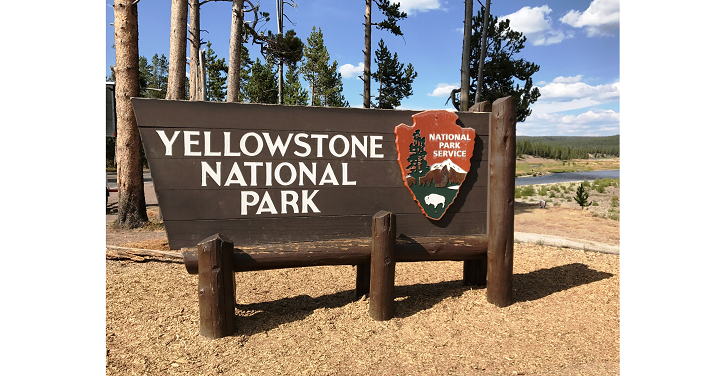 We just returned from a wonderful family trip to Yellowstone. My parents always told me growing up we used to love going to Yellowstone even more than Disneyland and I still feel that way as an adult. Now, I was able to share that same love for our National Parks with my own little family.
I wanted to make sure we got the most out of our short stay. While I would have loved to stayed up there longer, it just wasn't possible with work schedules and other responsibilities. But I'm happy to say, we were able to see SO MUCH in our 2 days there. I put together our itinerary so if you have the opportunity to go and explore Yellowstone you'll know all the fun and awesome place to stop at!
Day 1 (Lower Loop) Yellowstone Itinerary

Firehole Canyon Drive
This was our first destination for day 1 and was worth the detour. This road is a one way road with a slower speed so you can really take it all in. Once you come upon the waterfalls they have a few pull off areas in which you can park and checkout the waterfall outside your car.
Don't miss the turn off for the Firehole Falls, it comes up quickly once you've gone through the intersection. It's a quick 2 mile detour but gets you off the main road where you're bound to see some wildlife.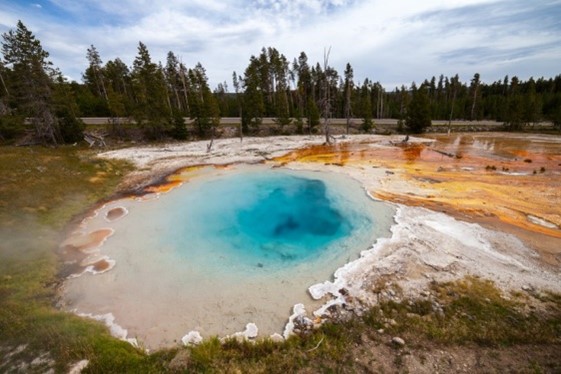 Fountain Paint Pots
The beautiful hydrothermal pools are everywhere in Yellowstone. We choose to hit up these Fountain Paint Pots next and they did not disappoint. The 0.6-mile loop at the Fountain Paint Pots will bring you past a variety of colorful pools. Don't forget your camera!

Grand Prismatic Spring
This next stop I'm sure you've seen in many pictures. This year, instead of walking the boardwalk around the hot springs we took a different approach. We drove to the Fairy Falls Trail (past the turn off for the Grand Prismatic Springs) and parked in the parking lot. Then hiked the Fairy Falls Trail until we reached the turn off  (about 0.6 miles) for the Grand Prismatic Springs overlook. At this point you'll gain about 100 ft in elevation before you reach the scenic overlook but it was doable even for my youngest (he's 6 years old). 
The over look is so beautiful in person and worth the hike in my option. After, we returned back to our car and ate lunch while we enjoyed the river.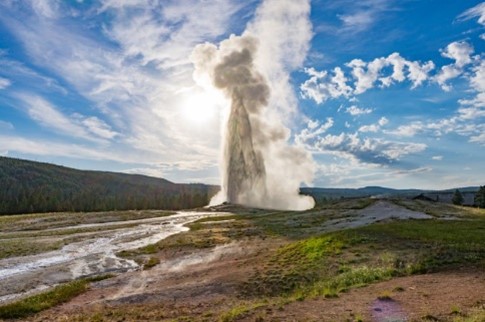 Old Faithful
Most know that Old Faithful is named such for its predictable eruptions but did you know it's not the largest geyser in the park? That would be Steamboat Geyser (which we'll stop at on day 2). But since Old Faithful is so predictable it makes it easier to plan a stop to see. You can check online for it's next eruptions time so you don't spend extra time sitting around wait. (If you have extra time you could take the board walk around to Observation Point – Geyser Hill Trail for a great view of Old Faithful without all the people)
In the mean time while you are there you can take your kids into the Visitors Center to start working on their Jr Ranger Program. They do charge $3 for the booklet so keep that in mind. My kids love doing all the Jr. Ranger Programs at the National Parks. If you haven't done one in the past, I highly recommend doing so.

West Thumb Geyser Basin
Take the boardwalk along Yellowstone Lake and check out the geysers that hug its banks. This was a beautiful place to stop especially with some of the ice still on the lake. Don't forget to checkout the trails on the other side of the parking lot. There we found a few elk and their calves walking around.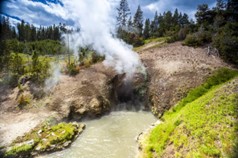 Mud Volcano
This was one of my kids favorite stops. This brief stop is where you'll find the Dragon's Mouth! Take the couple of steps up the trail so you can really see into the cave, it's so fun to listen and watch this magical spot. As you head north towards the Grand Canyon of the Yellowstone, you can stop off at the Mud Volcano, where you'll see many incredible volcanic elements in one easy 0.8-mile loop trail. 
You'll also see Mud Caldron, Sizzling Basin, Churning Caldron, Black Dragons Caldron, Sour Lake, and Grizzy Fumarole as you pass through this short, boardwalk hike. (This was closed when we went but I hear is a fun trail)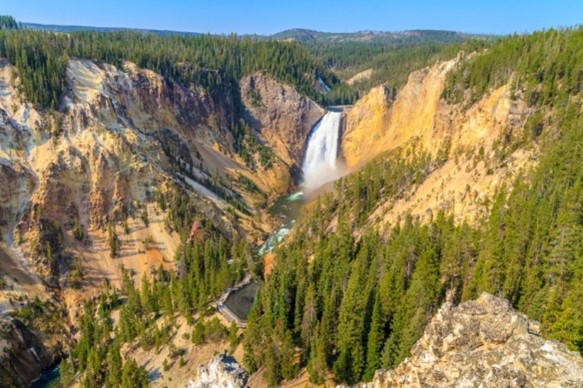 Grand Canyon of The Yellowstone
Here's a great photo stop for you. We were getting pretty tired by this point in the day so it was the perfect easy walk down to see the falls. You'll have the Lower Falls on one side and the Grand Canyon of Yellowstone on the other.
As you're coming up on Canyon Village area, turn right onto South Rim Drive towards Artist Point.
After this stop we headed back to our trailer. We actually found a place to camp outside of Yellowstone in West Yellowstone. Unfortunately we didn't plan this trip soon enough to get a camping spot inside of Yellowstone but in all honestly I would camp at Yellowstone Grizzly RV Park and Cabins again. The camp site was well maintained, clean and friendly. We loved our stay there.
Day 2 of Your Yellowstone Itinerary
We set out earlier on day two hoping to see more wildlife while avoiding some of the crowds. With that in mind we decided to go counter clockwise around the upper loop of Yellowstone Park. That's the best part of this itinerary, you can do what works best for you.

Tower Falls
Another waterfall is up first on our trip. This was my favorite part of our trip. Not because of the falls but this was were we saw a momma bear with her two cubs. One thing to note, if you see a ranger near by talking to a large crowd, get curious! They're probably there protecting and educating everyone on the wildlife. 
The trial to the waterfall isn't that long, less than 1 mile round trip.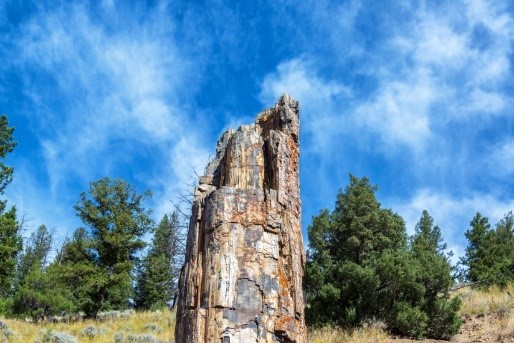 Petrified Tree
Almost immediately after rejoining the main road, the turnoff for the Petrified Tree will be on the left (if going counter clockwise around the upper loop). While this is a quick stop it's fun to see and show the kids what a petrified tree even looks like.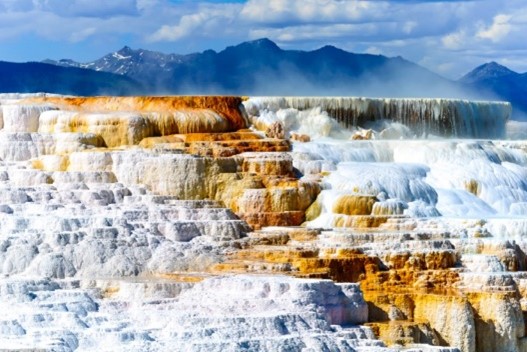 Mammoth Hot Springs
The Mammoth Hot Springs have boardwalks all over that are fun to explore. We even saw a snake along the trial so keep your eyes open. These are beautiful natural features that are stunning to look at. You can easily take an hour exploring. Don't forget to checkout the elk that hang out in town!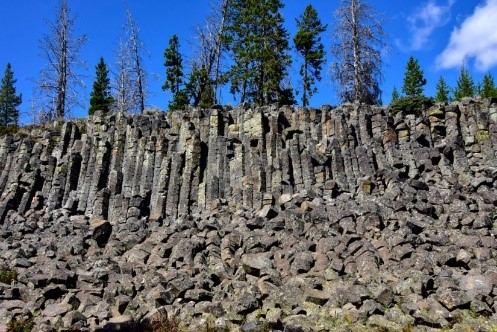 Sheepeater Cliff
Here's another interesting geological site that's worth the stop. We let the kids climb all over them. It was a great way to get out and stretch our legs. You can even take a walk along the river to see a small falls. 

Gibbon Falls
Our last stop before heading back to the trailer for dinner was the The 84 ft Gibbon Falls. With its convenient location right off the road, there's no reason not to stop and take a look! 
How's that for only 2 days inside Yellowstone? I hope you have an amazing trip and remember just enjoy being there. Take note of your "must see" stops then work around those. You're sure to make incredible memories!