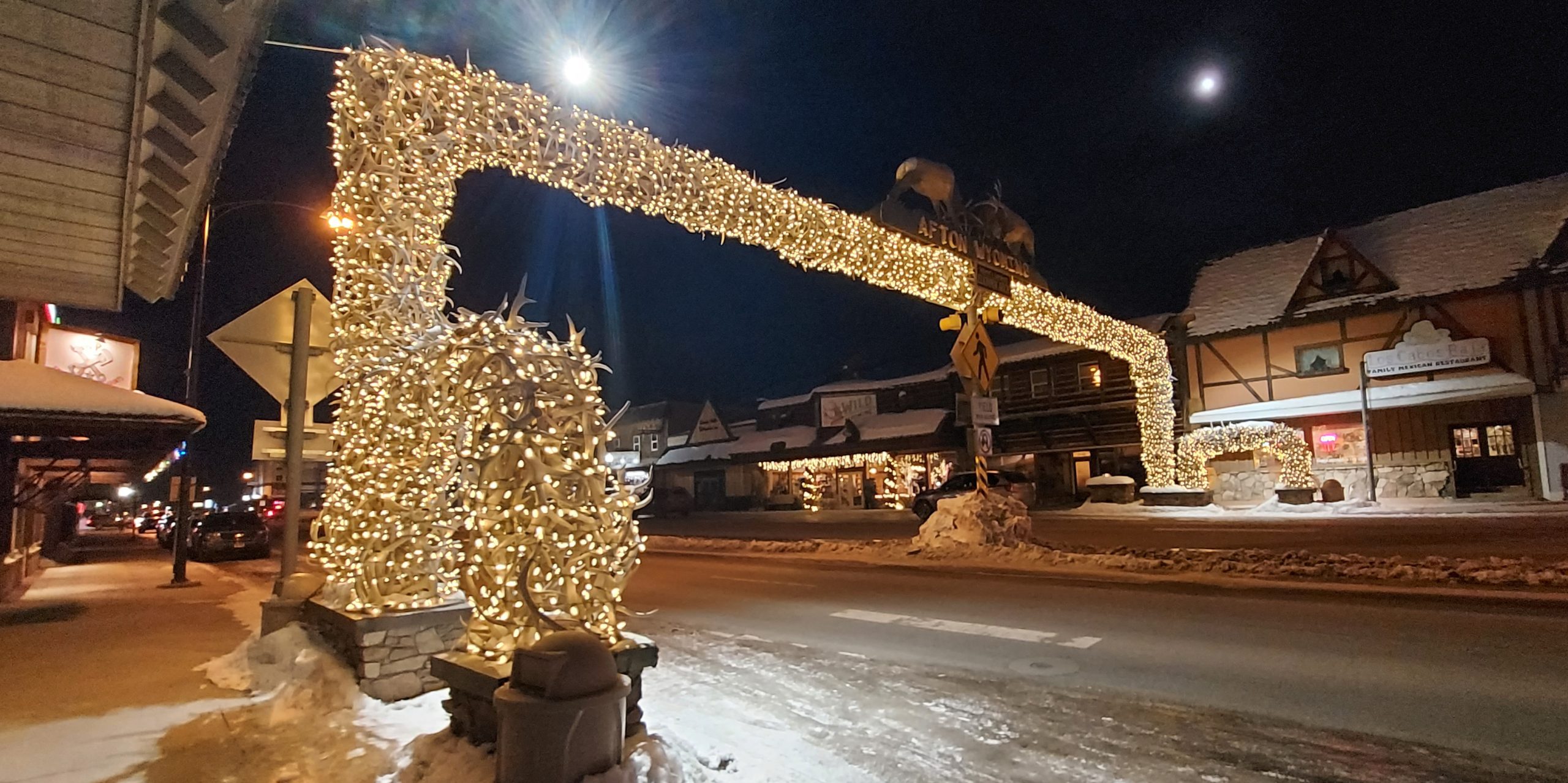 I know the long winter months are starting to affect a lot of us, including myself. So, we took a little weekend getaway up to Afton Wyoming. It was the perfect way to reset and reconnect with each other. I highly recommend getting away if you can. This was only a little over 3-hour drive from Salt Lake City making it great to travel to on a weekend. Here's what we enjoyed and the highlights of the trip.
World's Largest Elkhorn Antler Arch
I knew there was an Elkhorn Antler Arch in Jackson but had no idea the World's Largest one wasn't far from there in Afton Wyoming. This arch has a total of 3,011 elk antler. It's a fun sight to see while you're in town for dinner. We were lucky enough to see it light up at night.
Snow Shoeing Trails
There are tons of trails located all around Afton Wyoming. The one we took, and I recommend, is on the Periodic Springs Trail Road. You'll take the road as far as you can (it's not all snow plowed) then pull out the snowshoes and start hiking up the road. We were able to stop and see the Shawnee Falls as well as tons of wildlife so keep your eyes open. You walk along the riverbeds making for a beautiful hike the entire time.
Kodiak Mountain Resort
This place was beautiful and would be the perfect romantic getaway if that's what you're looking for. Our room featured a king size bed as well as a fireplace, soaker tub, dual shower head and surround sound equipment. They also have a hot tub on location and for the summer months there's a fire pit and awesome playground for the kids. The lodge is beautiful and offers spa services as well as a full breakfast. They offer different style cabins from couples' cabin on up to a family adventure cabin.
Snowmobiling
There are so many groomed trails you can head out snowmobiling on. Weather you have your own or you're looking to rent, this is an ideal place to explore. We used Alpine Adventure Rentals and they were amazing, so knowledgeable. They got us all set up and ready to go and included all our snow gear with our snowmobile rental. Then showed us some awesome trails we could go on including ones right out the door (no towing required).
Visit Star Valley Wyoming LDS Temple
This is a beautiful site to see. A great place to stop and walk around if you'd like or even pack a small lunch and enjoy the view. This was the first temple of the Church of Jesus Christ of Latter-Day Saints built in Wyoming.
Bonus
Like I said we went in the winter months, and it was perfect. But if you happen to go there over the summer, there is the Valli Vu Golf Coarse in Afton. It's a short 9 hole coarse but sits on the side of the mountain making the view quite impressive.