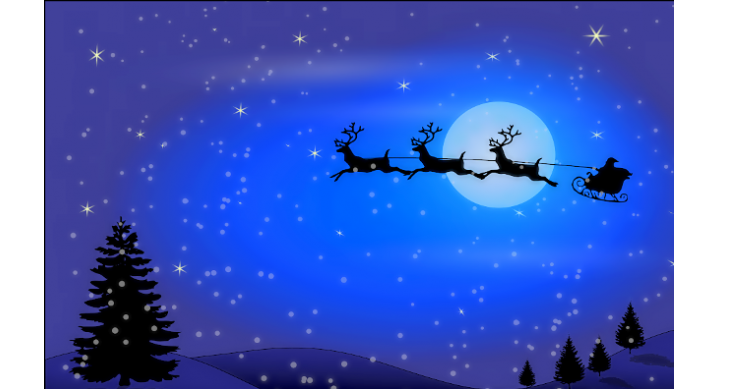 Christmas Eve is here and although most of you might have your family traditions already set maybe you can add one of these fun ideas to the list this year!
Open one present from under the tree  this has been our family tradition ever since I was little. Now my kids do it but they usually just get to open their pj's
Set up a scavenger hunt  this could be fun but would take a little work on your part. But lead them to their present they get to open that night or maybe a fun treat.
Fill a Sack for Santa to give back  I love this idea and since researching the topic by asking friends and family, we're added this one to our list! I have a big blue bag set out that they've been filling up with their toys and attached is a letter – I've filled this sack with my toys for you to recycle for girls and boys. Glad to know your north pole crew will make the toys back to new.
Sprinkle Reindeer food outside for the reindeer  my little's did this one last year and was so fun. We filled a bag with glitter, oats, sprinkles and a few other goodies for the reindeer to find.
Track where Santa is at  there are a few apps out there in which you can track Santa on. Like the Santa Call & Tracker – North Pole Command Center, this app cost $5 but could be fun for the kids.
Write a letter to your kids now you could do this after the kids to go bed and slip it under their pillow for when they wake up or save it for them to read them when they're older. Try to highlight things you've done this year or ways you've seen them grow and characteristics you admire in them.
Make some hot chocolate and watch the Polar Express in your jammies – this was another tradition we would do growing up although the movie wasn't out then so we'd read it by the fireplace. Now we watch the movie and cuddle on the couch.
Go Christmas Caroling  bring back the fun tradition of Christmas caroling by going around the neighborhood. See if you can get any families to join in.
Family Christmas Talent Show  share your talents with the family! You can even get creative and come up with a fun family skit.
Act Out the Nativity  we have many friends that have this tradition and I think it's such a great idea. You could even do this with all the grandkids. Just use some of your sheets as robes and grab a baby doll for baby Jesus.
Drive Around looking at the Lights and for Rudolph's Nose  who doesn't love driving around looking at all the Christmas lights? This is something my husband's family would do every year after visiting grandma.
I hope everyone enjoys this time surrounded by those you love creating lasting memories. And if you're in an unfortunate situation in which those you love are far away or no longer here, know that we wish you a Merry Christmas and send warm hugs your way!