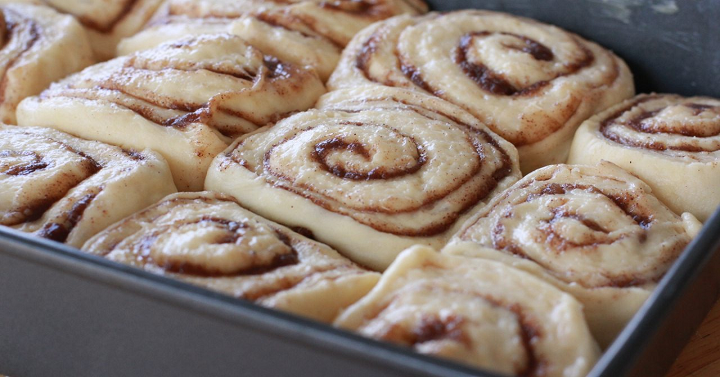 I love waking up to the smell of Cinnamon Rolls that are warming in the oven! But I'm not the mom wanting to spend hours in the kitchen so finding this amazing recipe that's quick and easy was just what I needed to carry the tradition on! This recipe was given to me by a friend when I was explaining my problem of not wanting to be in the kitchen all day. We've now made these cinnamon rolls multiple times for different holidays, family get together and just to give out to neighbors. I'm sure you're going to enjoy these just as much as we do!
One Hour Cinnamon Rolls
3 1/2 cups warm water
3/4 cups sugar
1/2 cup oil
6 Tbsp yeast
Combine these together and let sit (I cover mine so the yeast will activate) for about 15 minutes. Then add in:
1 Tbsp Salt
3 Eggs
10 1/2 cups flour
Mix together for 10 minutes and then let rest for 10 minutes. (if it's still really sticky, mix for a minute longer)  After it's rested for 10 minutes place some oil on the counter (yes oil not flour) and roll out your dough. You'll want to divide your dough in half and press half of it into a rectangle shape. Spread out 1/4 cup of melted butter. Then in a bowl mix together 1 cup brown sugar and 1 tbsp cinnamon. Once mixed well sprinkle over the butter. Roll up tight but not too tight. Take a bread knife (one with a serrated edge) and cute into 12 even slices and place on a greased sheet. Repeat with other half of dough. Let rise (timing depends on the temp in your kitchen but you want them to be large in size) After, bake at 400 degrees for 12-15 minutes. To make your frosting combine:
1 cube butter
2 dashes of salt
2 tsp vanilla
6 cups powdered sugar
You'll want to add these to your rolls when they're still warm but not right out of the oven, let them sit for a minute or two before adding your frosting. Then, enjoy!
Just a side note, these make 24 LARGE rolls! I usually half this recipe when making it just for my family unless we're planning on sharing in quick case I'll make the full recipe!
**This weekend, Oct 2nd and 3rd, The Church of Jesus Christ of Latter-Day Saints holds a General Conference where Apostles and the Prophet will be speaking. This is a FREE event and you can head to a local church building to watch it with others. Or, in many places you can watch it on TV in your home. It can be seen anywhere in the World. No matter your religious affiliation, this is just an overall uplifting series of talks on how we can become better, improve our relationship with Christ and our families. To get more info on how you can watch this great event, head over here. You can even watch it live on your computer!