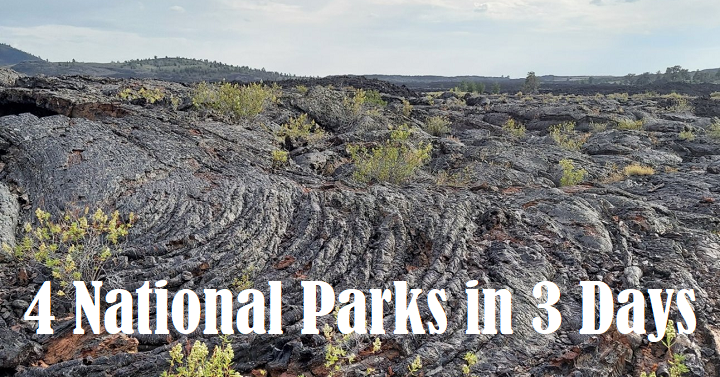 Have an extra long weekend coming up or want to take a little escape with your family? I found a fun getaway where you can hit up 4 national parks in 3 days all in Southern Idaho! Here are the National Parks we hit up and what we loved about each one.
Craters of the Moon
This landscape was formed by eruptions that started 15,000 years ago and represents the last period of volcanic activity in this area. Exposed fissures, lava fields, lava tubes, craters and cinder cones form a strangely beautiful volcanic sea on central Idaho's Snake River Plain.
This was our first stop and where we camped the first night. Luckily for us (and possibly you) we have a 4th Grader Every Kid in the Parks Pass, so we were able to enter the park for FREE. Our favorite aspect of the national park were the caves. We spent most of our time close by the caves, exploring. Make sure you first stop at the visitor center to get your (free) cave permit before you start exploring. They also have unique trails you can take. Broken Top Loop was our favorite trail to take the kids on. It's 1.8 miles in length and fairly easy (not too much elevation change). Plus, you must do Inferno Cone Viewpoint while there. It's a straight uphill climb but only .4 miles so do able and worth the view. Across the way are the Spatter Cones where you can read up on them and look inside! You could take a whole day exploring the caves but we fit all our adventures into one day.
Hagerman Fossil Beds
The Hagerman horse, Equus simplicidens, is the first true one-toed horse. It's the park's most famous fossil, but they have fossils from over two hundred other species too! From the saber-toothed cat, mastodon, bear, camel, and ground sloth, to smaller animals like rodents and frogs, the scientific study of Pliocene fossils is the key to Hagerman.
Unfortunately, this was on our plans to stop at, but the visitors center is closed for remodel.  So, make sure you look ahead if you're wanting to step inside the visitor center when you go. Besides the center they have many different trails to explore.
Minidoka Japanese Internment
The Minidoka National Historic Site are located just twenty miles northeast of Twin Falls, Idaho. I loved this stop!
In February 1942, President Franklin D. Roosevelt signed an executive order that moved nearly 120,000 Japanese and Japanese Americans into 10 isolated war relocation centers in Arizona, Arkansas, California, Colorado, Idaho, Utah, and Wyoming. These temporary, tar paper-covered barracks, the guard towers, and most of the barbed-wire fences are gone now, but the people who spent years of their lives in the centers will never forget them.
You'll get to read, learn and see all about their lives and the lives they lived here. They do have a visitor center as well that is open Friday, Saturday and Sundays from 10am-5pm.
City of Rocks
Our last and final stop was City of Rocks. You'll want to note the visitors center is located outside the national park so it's a good idea to stop there before you drive into the park. The ranger there was informative and worked so well with us and our kids. He gave the kids their Jr. Ranger badges and offered us lots of information for inside the park. We ended up camping for the night at the best (in my honest opinion) site, number 33. It had beautiful views we could enjoy and trails close by. This national park is more for climbing and repelling but you can enjoy the beauty no matter what you love doing outdoors.