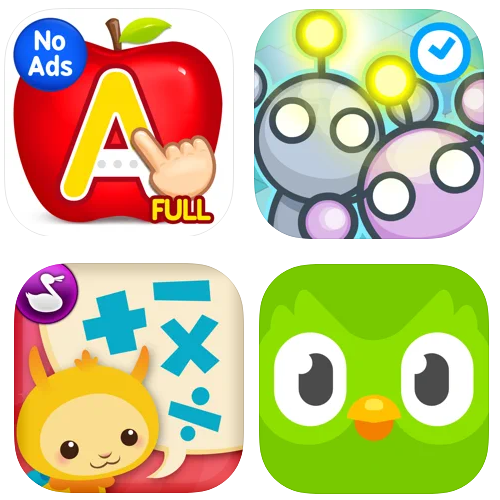 Who's looking forward to summer break? I like to make sure my kids are still keeping up on what they've learned through the school year so they don't forget it over the break. So here are some fun educational apps that are all FREE for kids!!
ABC Kids: FREE (Ages Toddler – Kindergarten) Help your toddler learn phonics and trace letters of the alphabet
Coolmath Games: Fun Mini Games: FREE (Ages 9+)  Play hundreds of favorite math, logic, thinking and strategy games. You can also use their website here.
Duloingo: FREE (Ages 4+) Duolingo is the fun app for learning 35+ languages through quick, bite-sized lessons. Practice speaking, reading, listening, and writing to build your vocabulary and grammar skills. You can also use their website here.
Duloigno ABC: FREE (Ages 4+) Great hands-on way for your child to learn to read.
Lightbot: Code Hour: FREE (Grade K-12) Code Hour is a programming puzzle game- a game whose game mechanics require using programming logic to solve levels. (no in-app purchases)
PBS Kids Games: FREE (Ages 2-8) A TON of different games that encourage skills related to science, math, creativity and more. You can also use their website here.
Pet Bingo: FREE (Ages 5-10) Kids will visually learn and practice addition, subtraction, multiplication, and division!
Scratch Jr: FREE (Ages 5-7) Another great coding app. Learn important new skills as they program their own interactive stories and games.
Starfall.com: FREE(Ages Pre K- 2nd Grade) Have fun learning essential reading and math skills. You can also use their website here.
Todo Math: FREE (Pre K – 2nd Grade) Great app for math practice where kids gameplay and collect items.
You can find more Tried & Tested Educational Apps & Websites over here! Do you have any other educational apps or websites that you use for your kids.
We would love to hear!