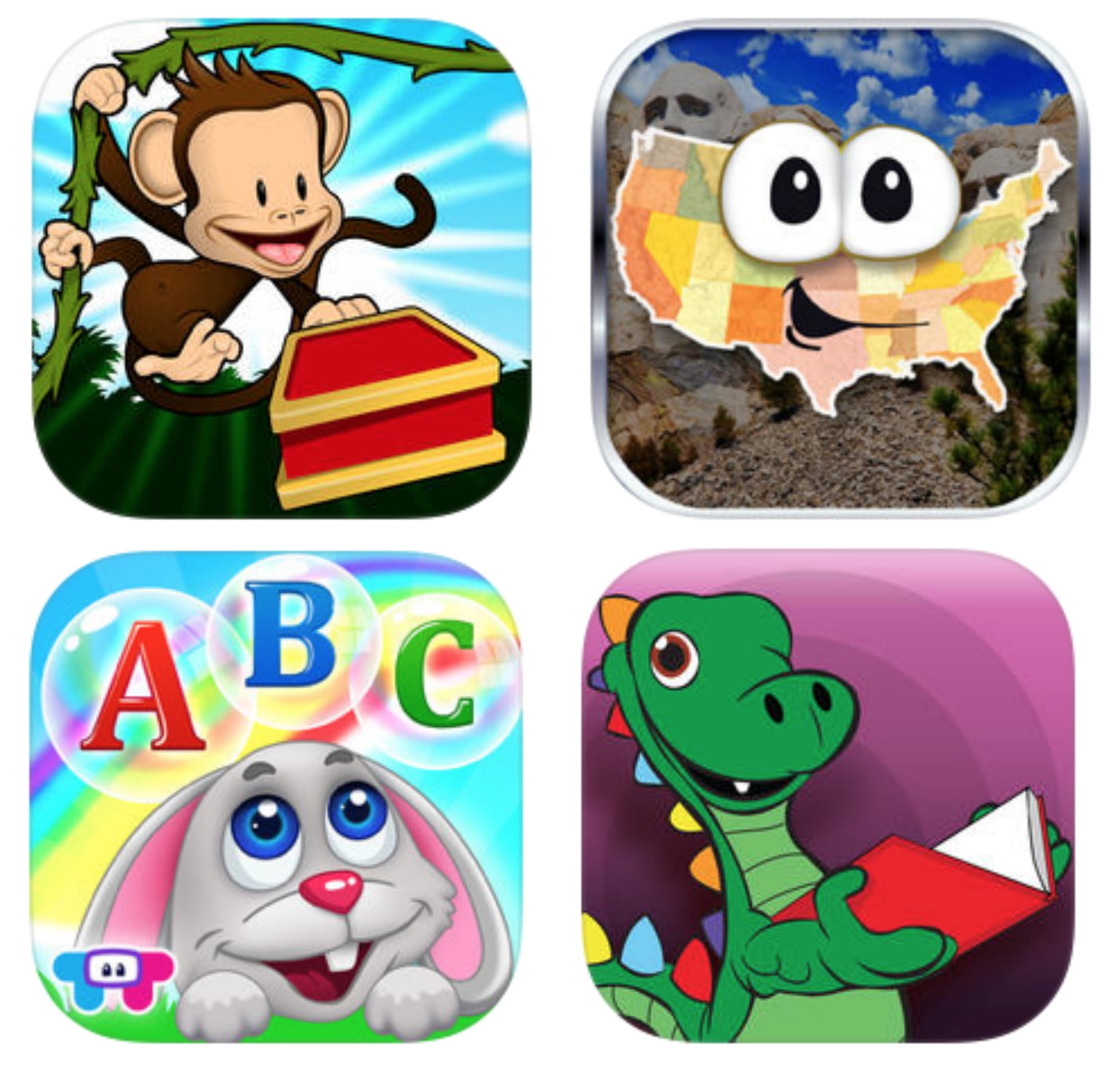 Are you guys having a hard time keeping your kids engaged in educational activities during the summer? As technology is becoming more and more important, kids are using iPads, iPhones, computers all of the time.  Why not have some educational apps and websites available to keep them learning instead of just being entertained?
As you've probably noticed, there are a TON of apps out there. So, here are a few apps that parents have tried, tested and approve.  Plus, a lot of these are FREE.  So you won't have to spend a lot of money, to get some good education this summer!
Monkey Preschool Lunchbox: $1.99 (Ages 2-5) Includes 7 different games that teach kids colors, letters, counting, shapes, sizes, matching and differences.
The ABC Song:  FREE or $3.99 for the full version (Ages 1-2 years) 9 Amazing spelling actives and games.  Plus, the interactive ABC Song.
Sumdog: FREE (Ages 4-12 years) Math, Reading, and Writing.
Endless Alphabet OR Endless Reader: Alphabet is $6.99 or Reader is FREE or $5.99 for full version (Ages 5 and younger) Learn and recognize sight words through puzzles, and fun Endless monsters.
IXL: FREE (Ages Pre-k – 12th grade) Over 4,500 Math, English and Language Art Skill.
Dragon Box:  $4.99 or get a Family Bundle (Ages 6-8 years) Give kids a head start learning math and algebra.
Math Bingo Games- A Racing Game for Kids: FREE (Ages 4-8 ) Using a racing game, learn to master elementary math.
Stack the States: $2.99 (Ages 9-11) Learn the state capitals, geographic locations, flags, shapes, name the states, and more.
Piano Notes!:  $1.99 (Ages 3+) Great app to quiz yourself on the notes of the piano.  Good for all ages!
PBS Kids Games: FREE (Ages 2-8)  A TON of different games that encourage skills related to science, math, creativity and more.  You can also use their website here.
Starfall.com:  FREE (Ages Pre K- 2nd Grade) Have fun learning essential reading and math skills.  You can also use their website here.
Do you have any other educational apps or websites that you use for your kids.
We would love to hear! 🙂