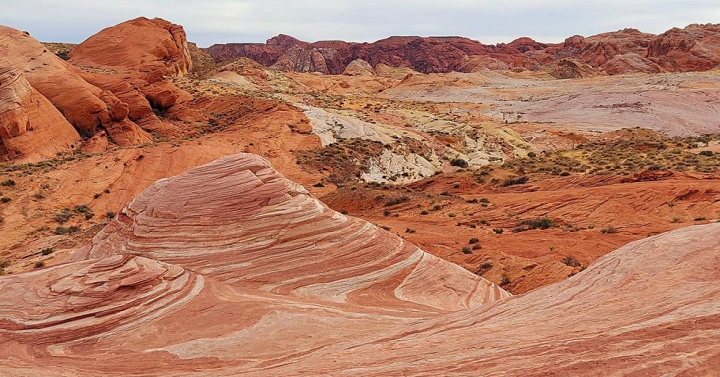 Things are different that's true but I hope you're finding ways to still create lasting memories with those you love. One thing we decided to do was take a quick trip down to Las Vegas. For us that's a good 6 hour drive which isn't too bad, definitely worth it. And there is plenty to do along the way! Here's what we pulled over for to enjoy along the way!
Valley of Fire State Park (Overton, Nevada) – this is perfect for anyone who loves the outdoors and exploring. They have some beautiful red rock formations to see and take pictures of. You will also find some hiking trails. Two of the easier ones are called Rainbow Vista or White Domes Hike which are both less than 1 mile round trip and give you some beautiful scenery. We ended up doing the Fire Wave Trail which was breathtaking. It wasn't to difficult of a hike and we saw people of all ages along the trial (which is a great trail for social distancing). This was by far our favorite stop and a place we want to go back to and explore more. (Note: it cost $10 to enter the park and takes about 30 minutes off the freeway to get to but I promise, it's worth it. The Fire Wave Trail is not recommended to hike during the high heat. You will want to stop and use the restrooms as well because there are no restrooms at the trail head. Don't forget to pack lots of water.)
Parowan Gap Petroglyphs (Cedar City, Utah) – it's a hidden gem and one if you're traveling through is worth stopping at if you love history. The kids can enjoy creating their own "stories" using graphics like the ones they see when you get back on the road. It's a short stop that will be perfect for stretching your legs and getting out of the car.  (Note: this stop is about 20 minutes off the freeway and you can estimate about 30 minutes to look around and explore.)
The Creamery (Beaver, Utah) – At The Creamery, dairy is at the core of everything they do. You'll find their cute store is filled with different cheese options (we went with the smoked, really yummy) as well as other great accompaniments (think jelly, fudge, syrup and more). Then you can step over to the Creamery Kitchen and enjoy a hot meal with items featuring their locally made cheeses. Don't forget to snag your ice cream before you get back on the road. Their creamery parlor as all your favorite ice cream mixes and then some. With 24 flavors everyone can find something you'll love.
Flying J Petting Zoo (Scipio, Utah) – I was so excited when we found this little petting zoo on the side of the road. It's really in the middle of no where but the perfect place to pull over and stretch your legs for a minute. Unfortunately is was closed when we went through but I saw on their Facebook they should be opening up soon, this month in fact. So if you happen to be taking a spring break down to St. George or Las Vegas this would be so fun to stop at with the kids. We luckily could see some of the animals (not all of them have been moved yet due to the weather) including a camel.  I can't wait to see what other animals they have the next time we're in the area.