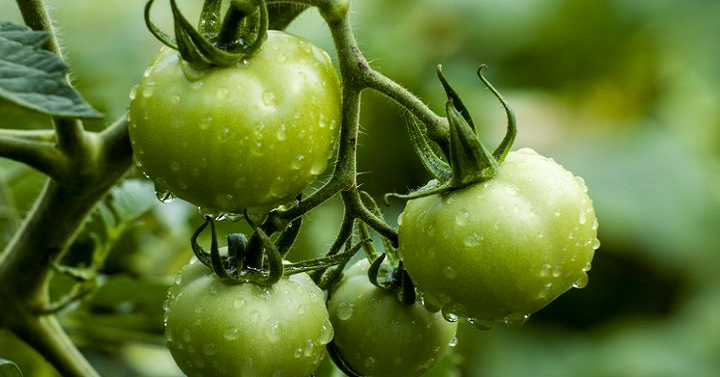 Summer is winding down which means your tomatoes are probably about done. But that doesn't mean you need to throw away all your unripe tomatoes, you can make a simple Green Tomato Salsa to use those up! Here are two different recipes you can try out this fall on all your green tomatoes!
Green Tomato Salsa
8 ounces

 green tomatoes (about 

5

 small)

1

 jalapeño pepper (without seeds)

3

 large cloves garlic

1

 medium white onion

1/2 cup

 fresh cilantro leaves

1/2 teaspoon

 kosher salt

2 tablespoons

 lime juice
Get a baking sheet out and place the green tomatoes (quartered), garlic (peeled), onions (quartered) and jalapeno (seeds removed) on the sheet. Broil for 4-5 minutes just until they start to blacken. Flip and rotate the veggies and broil another 4-5 minutes. Transfer everything to a food process or blender (except 1/2 of the jalapeno) including the rest of the ingredients and blend until desired consistency. If you'd like it spicier you can add in the other 1/2 of the jalapeno.
Green Tomato Relish
2 cups green peppers (3-4 med peppers)
3/4 cups red peppers (1 large pepper)
2 cups onions (2 large onions)
7 cups green tomatoes
1/4 cup pickling salt
3 cups sugar
2 cups cider vinegar
1 cup water
1 Tbsp mustard seed
1 1/2 tsp celery seed
3/4 tsp turmeric
Grind vegetables. Place all together in large bowl and add salt. Stir well and let set over night or for 5-6 hrs. Blend the next ingredients and pour over vegetables which have been rinsed and rained. Bring to a boil and boil for 20 minutes stirring frequently. Ladle into hot sterilized jars leaving 1/2″ headroom. Wipe top of jar and place lid and screw on top. Set out to cool.  (Method for hot water bath: at the point where you combine all the prepared ingredients boil only for 5 minutes then fill jars. Place in boiling water bath and boil 15 minutes for pint and 1/2 pint.)