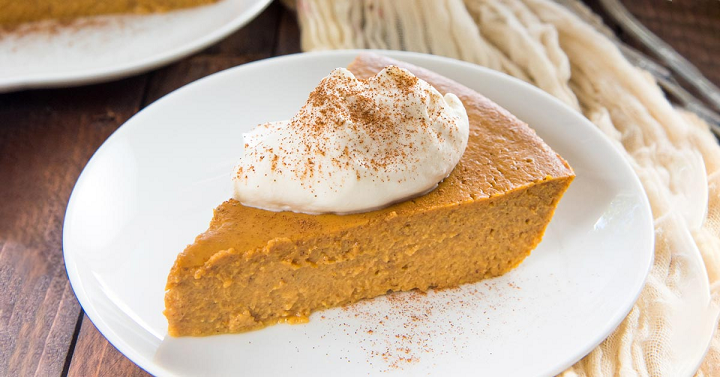 Thanksgiving is only a week away so the meal prep has begun! This year I've been working on listening to my body and working on portion control but that doesn't mean I want to miss out on dessert! So I'm bringing the pie and I've found (and tested) this yummy Pumpkin Pie to take to the feast. It's the perfect way to still stick to my goals and enjoy a taste treat.
Keto Crustless Pumpkin Pie
1 (15oz) can pure pumpkin puree
2 large eggs
1/2 cup erythritol
1/4 teaspoon salt
1 Tablespoon pumpkin spice
1 teaspoon ground cinnamon
1 cup unsweetened almond milk (or heavy cream)
1 teaspoon pure liquid stevia (optional)
First start by preheating your oven to 425 degrees. The simply whisk all ingredients together in a mixing bowl. Pour into a oiled 8×8 pan (or pie pan if you prefer). Bake for 15 minutes then reduce heat to 350 degrees and continue baking for another 35-40 minutes until the pie is set and cooked through. Knife should come out clean at center. Once cooled, slice and serve with whipped cream.
This is a crustless option and one I actually really love but you can always opt for a crusted pie make with almond flour if you're wanting the full effect! Happy Thanksgiving!