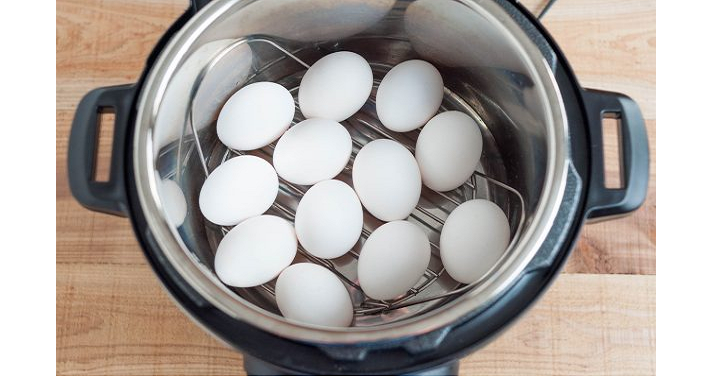 Who got an instant pot for Christmas? I did and I can't tell you how excited I was to give it a try! We've now used it everyday (sometimes twice a day) since Christmas! Which also means I've done a lot of reading and research on what it can do! So I've compiled some of the basic techniques for your instant pot! You ready? Lets go!
This is pretty well known but did you know using your pressure cooker will make them easier to peel? Finally a quick way to get those eggs hard boiled in time for breakfast or lunch! Just put a cup of water in the bottom of your instant pot. Add the basket (mine came with it) and set your eggs on top. Close the lid and press manual for 4 minutes on high. Simple as that.
Now you don't have a need for that rice cooker cause your instant can do that too! Get perfect brown or white rice every time with your pressure cooker. You'll add the correct amount of rice and water to your pot and press the rice button! Mine calls for 1 cup rice to 2 cups water, you can do more or less depending on the amount you need. (Note: even try whipping up some rice pudding too!)
This is something I haven't tried yet but I'm super excited about it! You can cook them both dried or soaked so if you forget the night before, no stress, you can still get those beans cooked in time for dinner.
This is a great quick (and cheap) way to use your instant pot! It's similar to your boiled egg process, you'll add a cup of water to the bottom of your pot and place your basket inside. Then clean your potatoes, pierce with a fork and place inside. Use the manual setting for 10 minutes on low and let the pressure naturally release.
I didn't realized that steel cut oats took so long without your pressure cooker until I was talking with a neighbor about it. I'm excited to say with your pressure cooker you can cook your steel cut oats in just 3 minutes! Combine 1 cup of steel cut oats with 3 cups of water! Add your favorite toppings when it's done and you're set for a warm yummy breakfast in the morning.
So what have you learned about your pressure cooker and what it can do? Does your family have a favorite recipe already? I'd love to give some other meals a try so drop your ideas in the comments below!