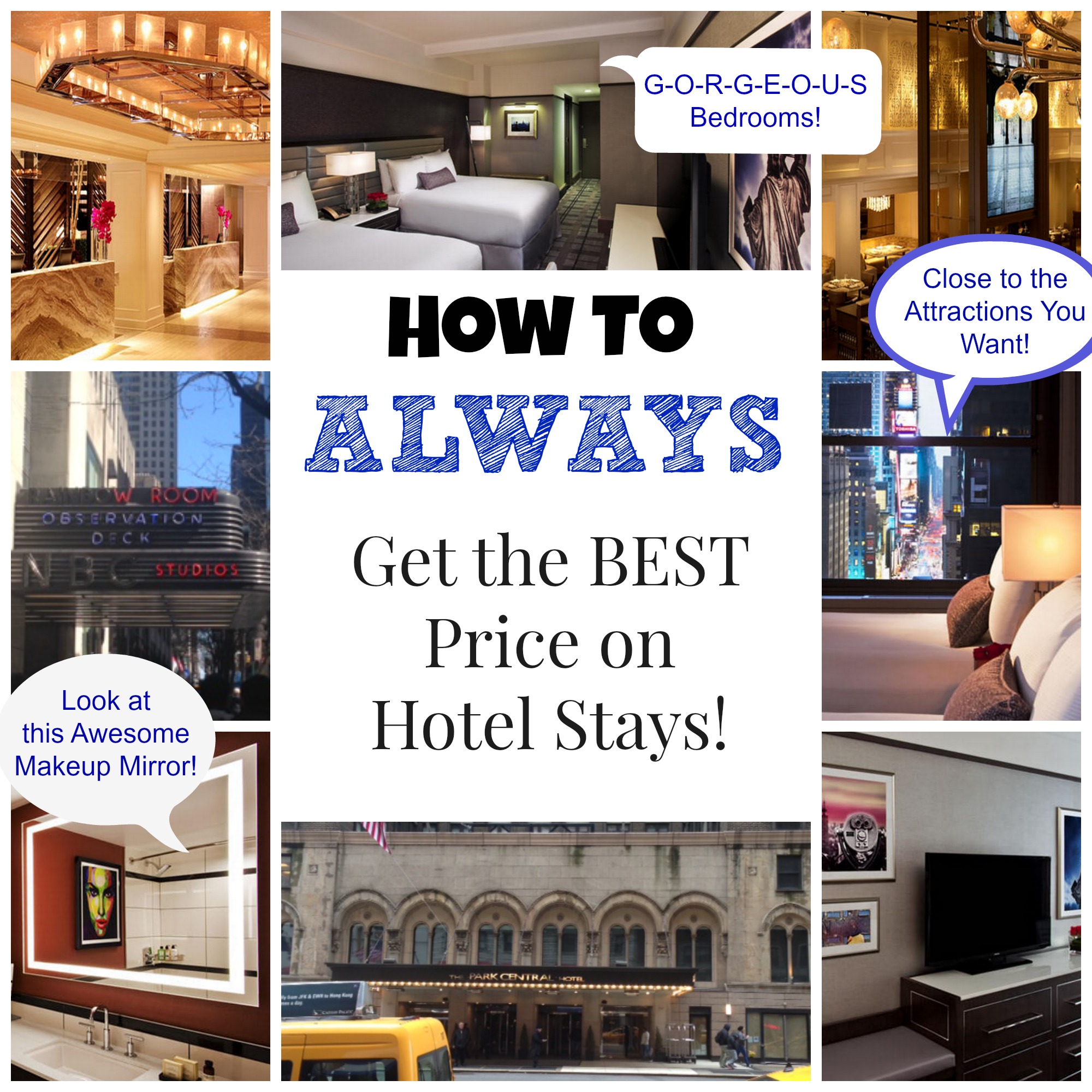 A lot of you might be planning vacations as we head into the Holidays.  So I thought I would re-post this post for all of you!  
I am a crazy person when it comes to shopping for the best hotel deal.  And not only do I want the best deal, I want the nicest looking rooms, best bathrooms, location is a big deal and the amenities are important too.  So I feel like I am always spending WAY more time than needed just to pick out a hotel.  It is an awful quality of mine and I spend a lot of time researching any hotel that is on my radar for upcoming trip.  It definitely pays off… don't get me wrong!  But I wish I was more "go with the flow".
On our recent trip to New York, I wanted a central location near all of the attractions we wanted to see so we could walk.  You don't want to have to pay for a taxi when walking is free, right?  Plus if you plan it right, everything is so centrally located that you might not need a Taxi the entire time you are there—except for your trip to and from the Airport.
I feel like I found a hidden gem while I was searching all over the place.  It's called the Park Central hotel. Not only was it recently renovated head to toe, but I got our King Bedroom for $117 a night!!  Can you believe that rate for NYC?  We actually headed to LA shortly after and the best rate I could find was DOUBLE that price for a hotel in Los Angeles.
Where did I find such a good rate, you might ask?  Here's how I start my obsessive travel searches:
I start with Orbitz.  Currently, it is my favorite travel site.  I search my dates, with the location and get an idea of what prices are for the timeframe I am traveling.  You've got to have a starting point to go off of to truly see how great of a deal you are getting.  So don't forget to start with this step.
After I get a few ideas of hotels that might be a good fit for what I need, I pull up Google Maps on my computer.  I enter in the address of my hotel and any attractions that I want to be near.  Google Maps will tell me immediately how far away it is via walking, via Subway or via car.  For this New York Trip, I found out quickly that the Park Central hotel was within walking distance to everywhere we wanted to go–Rockefeller Square, Times Square, 5th Avenue Shopping, Broadway…..!
After I have found out exactly where I want to stay.. and it can take me awhile, then I start the process of finding the best deal.
You will want to start with price comparing on the top travel comparison websites: Orbitz.com, Hotels.com, Expedia.com and Travelocity.com.  (Travelocity and  Expedia recently joined forces… so I'm not sure if we will see different prices on the two sites or if they will combine soon.)
Some sites like Orbitz and Travelocity have coupon codes stated on their homepages when they have promotions on hotels.  You know me…. I LOVE COUPON CODES!! You can enter in the promo code when you search for hotels during your date and the hotels participating will show up for you. 

The price you see is BEFORE the coupon code. 

Once you actually choose your room and rate, that is when the extra amount will come off.   For our NYC trip, the Park Central Hotel was around $120ish.  But Orbtiz had a 15% off coupon code.  So we got that 15% off for every night of our stay!  On top of that Orbitz has a rewards program.  So if you sign up for that, you will get Orbucks you can use on future bookings.  They are just like cash and will come off your total when you purchase another hotel or vacation! **You can even combine a coupon code AND your Orbucks balance on the same hotel booking!  YAY!!
Once I have figured out the lowest price on the travel comparing websites, then I will check the actual hotel's website.  So in this instance, I checked Park Central's website to see if they had any specials or promotions on their rooms during the dates of my stays.  The travel sites can't always give you the same promotions as the actual hotel.  So after doing a little searching, you can see if booking through a travel site with a coupon code is going to be cheaper than the Best Available Rate on the hotel's website.
MONEY-SAVING TIP:  Check non refundable hotel room rates on the hotel's website.  They are usually the lowest priced option.  But if you could possibly change the dates of your trip, or don't want to lose money if you have to cancel, this is an option to stay away from.  Most hotels allow you to cancel your reservations and get a full refund if you cancel at least 24-48 hours before your stay.  If you think you might have to reschedule or cancel, picking a slightly higher hotel rate is best!
Voila!  By now, you should know where the best price is and where you want to stay.  But we aren't done….if you have time, you might want to test your luck and do the search again in a few days.  I've found that if my trip is far enough out that the rates can drop a bit.  On the flip side, they can raise up too!  If you want to take a gamble, it could pay off.  It's totally up to you.. but I wanted to throw that info out there for all of you.
You can always book a hotel at the higher, refundable rate.  If two days before you know for sure you are going on your trip, you can check rates.  If they are the same price, or lower than what you already purchased, make a second reservation at the non refundable rate and then cancel your full-priced hotel rate without any penalty.  Doing this will obviously take more work, but depending on the price difference, it could be totally worth it!
DAILY DEAL SITES:  I have to add in that you will also want to check the Daily Deal sites that have discounts on travel.  Groupon has Getaways, Living Social has Escapes and Gilt has Jetsetter.  I have used all three many, many times to get killer deals on travel.  A few months ago, I actually scored the Hard Rock Hotel in Las Vegas for only $59 a night!  (And we were staying on the weekend!!)  So it definitely pays to take a second and search where you will be going to stay to see if the deal site's restrictions work with your travel date!
HotelTonight is another one.  You can get great last-minute deals on Hotels for either a vacation or a staycation. Our family has used these guys a few times and always had a great experience!  First, download the Hotel Tonight app on your phone, and use code MJOHNSON883.  You will then get a $25 credit to your account!
**I know a lot of you are "pinners".  So you can re-pin this post here, if you want to save these tips for future vacations!