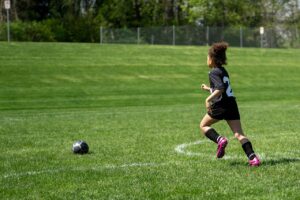 I know we only dove in a little bit when it came to saving money on kids' sports, so I thought I would hit you with a few more tips this evening! Are you ready to learn even more tips for saving on kids sports? 
If your budget is anything like mine currently is (incredibly strained and stretched thin), you might be starting to stress about those sports fees coming up later in the year! Let's prepare for them with these great tips.
More Tips for Saving on Kids' Sports
Save Up Now
Save up now, whenever you can. Even $5 here and there can add up quickly without you even really noticing. Whenever you find yourself with a few extra dollars that you can do without, stick them in an envelope or penny bank or someplace away from temptation. 
Let's say you are able to save $10 per week. That is an extra $100+ by the time school starts again! 
Ask About Scholarships
Many youth sports programs offer scholarships for those in need. There will likely be income restrictions (not always though) and sometimes they are only partial scholarships, but they are certainly worth checking out! 
Have Your Kids Play School Sports
Club sports are expensive. When my daughter played club basketball, it cost us close to $750 for sign-up and several hundred dollars per month. This didn't even include the gas for traveling and the entry fees for our family to go to her games. It was very expensive. 
School sports are often much cheaper than club sports and sometimes they are even free! This may be a good option for your kids to play sports if you don't have the budget to sign your kid up for pricey club programs.