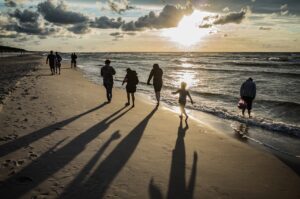 Are you planning a family vacation soon? We are actually preparing to head out on a family vacation with my husband's family in a few days and I'm starting to feel the stress creep in. In my stress, I decided to go back over my memories of the last time we took a family vacation together. 
Family vacations can be exciting and enjoyable, but they can also be very stressful. Here are some tips that I have found helped me on our last trip to lower my stress levels. 
How to Lower Your Stress on Family Vacation
Plan Ahead
Planning ahead can save tons of stress! I have found that having a set plan makes all the difference in everyone's mindset. This is especially true if we are taking excursions or visiting new places. We like to make sure everyone agrees on the days/times we are going to visit each place. It works best if we are all on the same page. 
Include Everyone in the Planning
I have found that everyone needs to be involved in the planning. My husband hates the decision making part of vacation planning, so he always leaves it up to me, but he also doesn't like to be surprised last minute with our plans. So, while I do most of the vacation planning (even when it includes extended family), I do so while including everyone in a group text, making sure everyone agrees with the plans or can share their ideas. 
Plan Downtime
Even people who love to be on the go a lot need to have some downtime. This is especially true with children and with older people. Just being go go go all the time is a lot of chaos and our minds and bodies need to unwind sometimes. 
Be Flexible
While you are on your vacation, one of your family members may stumble onto an activity that they don't want to miss out on. Being flexible enough to change your plans can be fun and can help alleviate the stress!