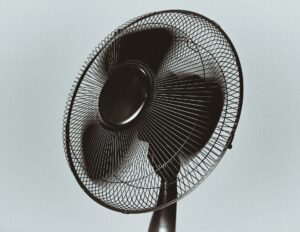 It's getting hot out there already, folks! Have you kicked on the A/C yet? I don't know about you, but my budget is strained lately due to the rising costs of everything I am trying really hard to keep my utility costs down, so I'm looking for any and every way possible to save on my cooling costs. 
It's been hot here for a while and I am already noticing a difference in my bills. If you are curious, check out these tips below and see how you can keep your costs down too. 
Tips for Keeping Your Cooling Costs Down as the Summer Heats Up
These are the tips that I have found to help in keeping my cooling costs down so far:
Use Your Ceiling Fan
I have had a ceiling fan for years, but I never really gave much thought to using it for good (meaning that I could actually use it to save money). A ceiling turned on can help to move the air around the room better. Without an air conditioner, a ceiling fan can make a room feel 5-7 degrees cooler. If you have an air conditioner, the fan can spread the cool air around the home more. 
Set Your A/C to the Highest Temperature You Can
Even if it is just one or two degrees, setting your a/c to a higher temperature means it works a little less and that will in turn, save you money. 
If you are using a window or stand-alone unit, see if your unit has an energy saver mode.
Clean Your Filters Regularly
Be sure to clean or replace your filters monthly. This reduces energy consumption by up to 15%. If your A/C or heat pump is located outside, be sure to clean any debris off of your unit. 
Also, if you are using a whole house system, be sure that your registers aren't being blocked by furniture or any other household items.