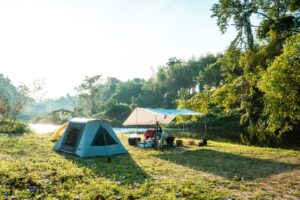 Do you have any upcoming camping trips planned? I absolutely love camping and I cannot wait until our upcoming trips this spring and summer! Whether you are a new camper or a long time expert, we all can typically use some new tips and tricks for camping.  
Check out this list of my favorite camping tricks and see if they can help you have the best camping trip ever coming up! Whether you need tips to help your trip go more smoothly or you need tips for saving money while you hit the great outdoors, you'll find some tips here! I hope you have so much fun at the campground, my friends!
My Favorite Campings Tips and Tricks
20 Items You Can Get From Dollar Tree
Did you know that there are quite a few things you need for camping that only requires a trip to Dollar Tree?! It's true!! Check out the list here. 
Tips for Camping with Kids
Kids are amazing and fun and silly, but they do require a little bit more when it comes to camping. If you are headed out camping with kids, check out these tips for camping with kids. 
Free Camping Planner and Printable Camping Food List
This free camping planner and printable camping food list will help you keep track of what you need and what is packed for your trip ahead. Trust me, once you are all packed up, it's easy to forget if you packed something or not. 
Essential Kitchen Gadgets for Your Camping Trip
Do you bring any kitchen gadgets with you when you go camping? There are a few that are a must have for many! Check out this list of essential kitchen gadgets! 
Camping Gear for Beginners
If you are brand new to camping, be sure and check out this Camping Gear for Beginners list! I promise it will help you prepare for a great trip!