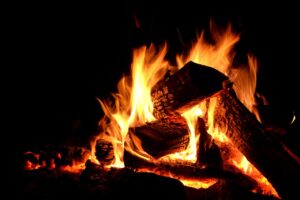 It's all about camping up in here! Yesterday we talked about camping tips and tricks, today we are going to talk about camping meals! I have found camping to be so much more fun when I do two things: Meal Prep and Meal Plan. When I go on a camping trip knowing exactly what everyone will be eating and knowing what we will be cooking, it eases my stress quite a bit. 
I have put together a list of my favorite camping meals and snacks that we tend to cycle through during each of our camping trips. Do you have any favorite camping meals? Share with us in the comments!
My Favorite Camping Meals
Make Ahead Recipes
Sheet Pan Pancakes
These sheet pan pancakes are awesome for making ahead and packing away for a quick breakfast at camp! Of course they are great for year round camping, but they are super great for Memorial Day or Independence Day camping trips because of their patriotic colors. 
No Bake Peanut Butter Energy Balls
My teenage son absolutely loves these no bake peanut butter energy balls and I always keep them on hand during our camping trips! They are super easy to make and they keep the hunger at bay for the busy camping days. 
Foil Packet Recipes
Sausage Foil Packet Dinner
This sausage foil packet dinner just screams camping meal! Foil packet dinners weren't really on our camping meal radar until about a year ago, but our last few trips have been an exception and everyone loves them so much that they are now a normal part of our camping meals. 
Honey Dijon Chicken Foil Packets
Another great foil packet dinner that we all love is this honey dijon chicken foil packet. This meal is full of flavor and super easy to make! 
Grill/Griddle Recipes
Blackstone Chicken Fajitas
I know I have discussed these Blackstone Chicken Fajitas before, but there is a good reason. These things are delicious and they are perfect for camping. 
Shrimp and Scallops on the Grill
Are you a seafood lover? These shrimp and scallops on the grill are a great camping meal to make on the grill!