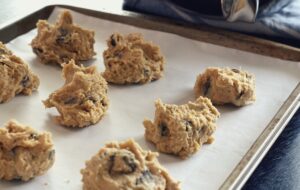 Who else is craving cookies? ME!!!! I am not a huge fan of baking, but sometimes I really do get into a cookie baking mode. My kids love it when it get into that mode, because we end up with a lot of cookies during those times.
I think I'm going to have a good cookie baking session this week for two reasons. First, Easter is this weekend and everyone loves cookies and treats for the holidays, right? Second, it's going to warm up soon and I never love having cookie baking sessions when the weather is hot out! Who needs to heat up their house, am I right? 
Fun, Yummy Cookie Recipes
These fun, yummy cookie recipes all look like they'll be a hit with my family this weekend!
Pawprint Cookies
Whether you love Lion King, or you just love animals, these pawprint cookies will be a hit!! They are simply adorable.  
Triple Chocolate Marshmallow S'Mores Cookies
Love chocolate? You are going to flip over these triple chocolate marshmallow s'more's cookies! I am always a sucker for chocolate, so you can bet I'll be making these!
Oatmeal Bliss Balls
Okay, so these oatmeal bliss balls aren't technically cookies, but my boys always call energy balls cookies, so I include them in my cookie lists! 
Banana Oatmeal Cookies
I love these banana oatmeal cookies for several reasons. One, they are delicious. Two, they work well for breakfast or a snack. Three, they take just 4 ingredients! And four, as far as cookies go, these ones are really pretty healthy! I can make these and not stress too much about my kids getting a sugar rush when they eat them. 
What are your favorite cookies to bake? I am always looking for more recipe ideas, so please feel free to share with us! My kids will thank you for it.