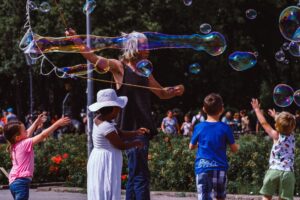 Do you need to exercise more? No shade, most of us need to be exercising more. I used to work out all the time. I loved it so much, I never wanted a day off. Then about 6 years ago, I had my third and final baby and I just got tired. Like seriously so tired. I didn't work out for what seemed like years. In the last few years though, that changed significantly. I now work out 5-6 days per week and I am feeling so much better!
 If you are looking for tips that will help you get more exercise, look no further than this post! I'm going to chat about some of my favorite ways to work more exercise into my day. 
4 Tips That Will Help You Get More Exercise 
Hit the Trail
Hiking is my favorite type of exercise. I think it's because many times it doesn't feel like exercise at all. Once I hit my first trail, I started to learn all I could about hiking (check out these fun facts about hiking) and places near me to go. Many times it will be a flat easy walking trail and sometimes you can even find paved ones! Hiking feels more like exploring than exercising.
Play with Your Kids
Exercise doesn't have to mean hitting the gym. Sometimes it can be as simple as playing catch with the kids or heading out for a visit to the park. 
Go Outside
Being outside gives you a lot of opportunity for exercise. It also gives you more reasons to move your body! Even something as simple as picking flowers or something more substantial such as gardening. All of these things are a form of exercising! 
Play Video Games
My kids have the Occulus Quest video game and oh my gosh, many of those games are workouts in themselves! Plus, they are lots of fun! I know that some Nintendo switch games are good for workouts as are some old school Nintendo Wii games. If you have any of these games systems on hand, take advantage of this opportunity!