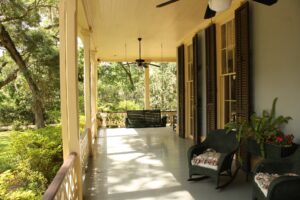 Spring has sprung, my friends! Are you ready to brighten up your living spaces and your yard? I now I am!! One space I am really looking forward to doing some spring cleaning and decorating is my porch! Your porch is the space that says hello to your visitors, so don't you want it to look it's best?!
If you are looking for porch decor on a budget, check out these fun ways to spruce up your space without breaking the bank. There are some really good ideas listed here!
Porch Decor on a Budget
There are many ways to decorate your porch on a budget. Here are some ideas to get you started:
Add Plants
Plants are a great way to add color and life to your porch. You can find affordable plants at your local garden center or even at the grocery store. Consider using hanging baskets, potted plants, or even repurposing old containers as planters.
Use outdoor pillows
Outdoor pillows can add a pop of color and comfort to your porch furniture. Look for sales or clearance deals to save money.
Hang string lights
String lights can add a cozy and inviting atmosphere to your porch. You can find affordable options at discount stores or online.
Create a DIY doormat
Personalize your porch with a DIY doormat. You can use stencils and paint to create a design that fits your style.
Use thrifted decor
Thrift stores and garage sales can be great places to find unique and affordable decor for your porch. Look for items like vintage lanterns, baskets, or even old chairs that can be repurposed.
Add a rug
A rug can add color and texture to your porch. Look for outdoor rugs on sale or clearance, or consider repurposing an old rug you already have.
Paint your front door
A fresh coat of paint on your front door can make a big difference in your porch's appearance. Look for paint on sale or use leftover paint from previous projects.