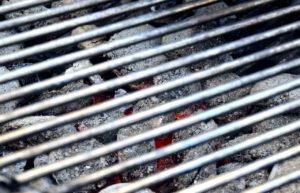 Are you ready to fire up the Blackstone griddle or your propane grill, or maybe you are more of a charcoal grill person? I am! To say I am excited for grilling season would be putting it lightly. I am all about that outdoor life and outdoor cooking is part of that. I happen to live in a very rainy part of the Pacific Northwest though, so as soon as we get some dry weather for a change I will be all about making some of these amazing grilled recipes!
If you are ready to start enjoying delicious grilled meals, check out these delicious outdoor grilled recipes and get to grilling! 
Delicious Outdoor Grilled Meals
Get outside and fire up your grill because we are about to blow your mind with these recipes! 
Chicken Fajitas
I love love love these chicken fajitas! They continue to be my favorite Blackstone Griddle meal. These are packed full of flavor, healthy, and easy to make! 
Blackstone BBQ Bacon Smash Burgers
If you really love a good burger, you have got to try this recipe! These Blackstone BBQ Bacon Smash Burgers are melt-in-your-mouth delicious!
Grilled Hawaiian Chicken Teriyaki
If you love a good sweet flavor with your grilled chicken, you have got to try this grilled Hawaiian Chicken Teriyaki recipe! It is mouth-watering and delicious! This one was a huge hit with my family the last time I made it. 
Grilled Pineapple Pork Chops
Another delicious recipe with a sweet touch. These grilled pineapple pork chops are going to be a great main event at your next backyard BBQ. Even my non-pork-loving kiddos loved this recipe. 
Grilled Crack Corn Salad
Here's a unique and tasty side dish for your next BBQ meal! Grilled Crack Corn Salad will blow your mind, my friends! 
Patty Melt Burger
If you want to take your grilling skills up a notch or two, you have got to make this recipe. This Patty Melt Burger is oozing with delicious swiss cheese and caramelized onions and will make you want to fire up that Blackstone night after night. .