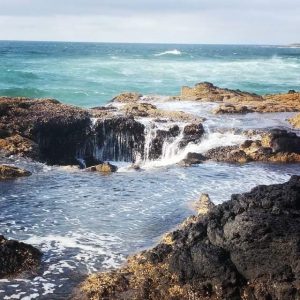 I don't really set new year's resolutions, however I do like to set goals for myself often. I like to do this on a yearly, quarterly, monthly and weekly time period. My main goal for the coming year and months is that I need less stress in my life. In order for myself to have less stress, I know that I need more downtime and relaxation. That means vacation!
I love a good vacation, but I don't need to spend thousands to reset and refresh. A quick weekend trip or even a day trip somewhere helps me to unwind and feel less stressed during the weeks. Because I love these little trips, I decided to do a little research into fun and unique places to visit in the United States. I want to check out some off of the beaten path places this year!
Unique Places to Visit in the United States
Thor's Well, Oregon
Thor's Well off the coast of Oregon is one of the coolest places I have ever visited. Thor's Well is a sinkhole that is at the edge of the Pacific Ocean near the town of Yachats in Oregon and oh my goodness is it breathtaking! 
Be sure to watch the tides before you head there and be careful! 
Off The Beaten Path Places in California
This blog post offers a great list of off the beaten path places in California! You hear about the big cities and popular attractions in California all the time, but you may not have heard about these great places! 
Grain Elevator Tour, New York
New York is home to some really interesting history! If you are anything like me, you love historical tours like this Grain Elevator Tour in Buffalo, New York. 
Saint Augustine Alligator Farm
Have you ever wanted to get an up close view of alligators and get to know a little more about them? This Saint Augustine Alligator Farm is a seriously unique destination that you are going to be excited to tell all your friends and family about. I love unique animal experiences like this one.