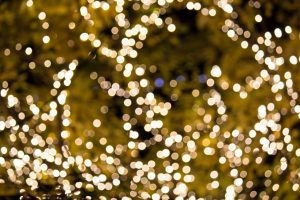 Are you ready to be surrounded by Christmas? I am! Seriously, I don't know what is different this year, but I am just ready to be surrounded by Christmas decor, sipping hot cocoa and enjoying the fire while looking at stockings hung on the mantle. 
BUT….According to my family, it's a little too early for the stockings and non stop Christmas movies, so instead I'm breaking them in easily with some twinkle light decorations to get everyone in the Christmas mood. If you are wondering where to hang this fun holiday decor staple, here is how to make your house feel cozy for the holidays with twinkle lights. 
Make Your House Feel Cozy For The Holidays with Twinkle Lights
There are so many things that you can do with twinkle lights year round, but it's really fun to add them to your home decor for the holidays! 
Accent Your Mirrors
I have a large mirror in my living room and I have adorned it with white twinkle lights scattered with winter foliage and it looks beautiful!! Even my husband (who pays no attention to detail whatsoever and prefers to leave me in charge of all decor) commented on how pretty it was! 
Wrap Them Around Your Banisters and Railings
Wrapping twinkle lights around your banisters and railings is a great way to accentuate these pretty parts of your home and to give your home that warm, holiday vibe!
Wrap Them With Garland and Accent Your Windows, Mantle, Doorways, Shelves, etc.
I absolutely love the look of garland strung throughout my home during the holiday season, but twinkle lights wrapped up in it takes it to a whole new level! Next to my Christmas tree, this is my favorite holiday decoration.