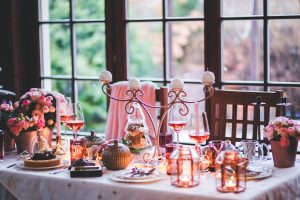 Okay, so Halloween is tomorrow and after that? It's officially the holiday season, my friends! Are you feeling it? Are you the type of person who gets in the holiday spirit the moment that November begins? Are you planning to host a holiday party this year? 
Whether you are new at hosting a party or you just haven't done so in a while, you may enjoy this list of tips on how to prepare for hosting holiday gatherings. I'm not huge on the party scene typically, but I am absolutely ready to celebrate so I'm all in this year.
How to Prepare for Hosting Holiday Gatherings
Shop Early
I hate hate hate shopping at the last minute. I don't care if it is shopping for gifts, drinks or food. Shopping at the last minute adds so much unnecessary stress. Be sure to shop early for your food and necessities for your holiday gatherings. Knowing you have everything ready to go in advance will make all the difference. 
Have Food Options
Do you know if your guests have any food restrictions or allergies? Make sure you are prepared for it by having a variety of food options. No you don't have to cook everything, but having at least a small selection will help everyone enjoy their time at your holiday party. 
My daughter and I both have some pretty severe food allergies so we often don't get to enjoy party food, but we do have some friends and family members that make sure to have some options for us to eat when they have us over. It makes all the difference for us. 
Have Non Alcoholic Drinks Available
If you are planning a celebration that will include alcoholic beverages, make sure you include some non alcoholic drinks to what you are offering guests. There will likely be non-drinkers there and it's always nice to be included!
Enjoy Yourself
Don't be so stressed out with the party planning and all of the specifics that you forget to enjoy yourself! This party is for your guests, yes, but it's for you too! Make sure you take time to remember that.