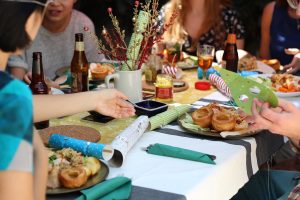 Hosting Holiday gathering is great, but let's be real. It's A LOT of work. I just hosted Thanksgiving at my house and I was so tired I was ready to sleep by 7:30 that day and relaxed the entire day after.
To show your Holiday host how much you appreciate them for opening their home to you, you can bring them a festive gift. Here are some ideas for clever and festive ways to say thank you this year!
Clever And Festive Ways To Thank Your Host This Holiday Season 
I have found all of the following to be a hit when it comes to thanking holiday hosts. 
Flowers
Everyone loves flowers, right? Find them a cute bouquet of flowers already in a vase (they don't need more work on their plate). Flowers are a great way to brighten a home so many hosts love them. 
Food
Food is one of my favorite gifts to give. I like to make cookies, cocoa mixes, and more for gifts in general so I think these are already a great idea. If you are attending a dinner party though you can bring a dessert or dish that will pair well with the meal. 
Alcohol/Wine
Grab a nice bottle of wine or your guests preferred alcohol (hard cider is always a fun one over the holidays). Add a personalized thank you tag for an added bonus.
Thank You Card
To show your appreciation, you can give your host a thank you card. You can even send them an e-thank you card. This is a low cost way to show your appreciation. 
Just Tell Them
Sometimes something as simple as taking someone off to the side to say thank you is enough. I know that this Thanksgiving I had several people stop to say "thank you for all of your hard work this year, it does not go unnoticed" hearing this from my friends and family made it worth all the work.