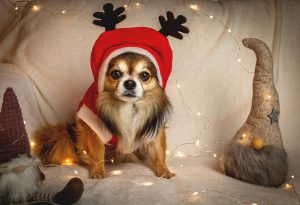 Do you have a canine kid that you love to include in all of your favorite family activities? I don't know about your family, but we absolutely love to include our family dogs into all of our holiday family activities. It is so much fun and honestly, I love having photos of them being included to look back on. 
While we like to include our pups in activities for all of the holidays, today I am going to talk about 3 holiday activities to do with your dog that are focused on the Christmas holidays. 
3 Holiday Activities to Do with Your Dog
Pick Out a Christmas Tree
This year, why not take the kids and dog to a Christmas Tree farm where you can walk around and choose which tree will be cut down for you. Talk about adorable photo opportunities! We did this last year and oh my gosh, it was so much fun. 
Go See Santa
Many pet and farm stores offer the opportunity for your pet to come and see santa. There is almost nothing cuter than having an adorable photo of your dog with Santa Clause. 
Watch a Fun Christmas Movie
Does your dog like to watch movies with you? My dog always gets extra excited when he hears dogs on the TV, so I like to add at least one movie into the mix just for her. If you are looking for fun movies to watch with your dog, here are some of my favorites:
Beethoven's Christmas Adventure – I don't think that there is a Beethoven movie that I don't like and this is a fun one for the holidays. 

A Charlie Brown Christmas – I don't know a single person or dog that doesn't love this movie. How about you? 

The 12 Dogs of Christmas – You simply cannot have Christmas without a movie that focuses on the meaning of Christmas, am I right?

I Want a Dog for Christmas, Charlie Brown – Another fun Charlie Brown movie to add to the watch list with your pup.