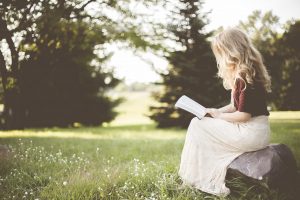 Reading is one of my favorite things to do. In all reality, it can be one of the greatest pleasures in life. Reading transports you to a new place. It improves your vocabulary, enhances your empathy and so much more. All of these benefits come with any genre of book you read. Regardless of what type of books you like to read, it's easy to relax and get lost in what you are reading. 
Life gets busy though and if you are anything like me, it's hard to find the time to enjoy a good book, as much as you want to. That is why, if you love reading, you need to learn how to find more time to read. The following tips have made it easier for me to find more time to read.
How to Find More Time to Read
Try AudioBooks
While some people don't think they are the same, I happen to love audiobooks. I have learned a lot of new things (hello, self improvement books!!), listened to fiction books I love and more all while accomplishing other things on my to-do list.
Audiobooks are great! Plus, most audiobook streaming services offer free trials. 
Set Your Alarm a Little Earlier
I am an early riser by nature, but I actually REALLY love reading in the quiet mornings before the rest of the family wakes up. I really enjoy coffee and a book to start the day. 
Start Small
If you are just getting back to reading, don't let it overwhelm you, just start small. Grab a new book and read just one chapter. Read a blog post. Read a poem. There are ways to start that won't take a lot of time. 
Add it to Your Schedule
You deserve to do this and this means that you need to realize how important it is. Make sure to schedule reading time into your daily or weekly calendar. While taking the time to read does seem a little luxurious, it is important and you deserve it!