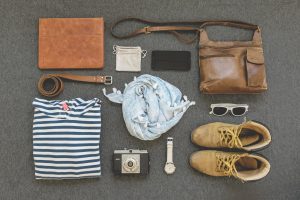 Do you have a trip coming up? Are you already thinking about your packing list? I have gone on trip after trip and up until a few years ago, I always brought too much stuff. Like seriously. 2 suitcases for 3 days. So embarrassing and such a hassle!
Then I discovered the absolute joy of traveling with a minimalist wardrobe. Let me tell you, my friends. This made all the difference in my travel adventures! I am no longer chaotically packing for each trip and the lower stress makes adventuring so much better! Read on to see how to create a minimalist wardrobe for travel for your next adventure.
How to Create a Minimalist Wardrobe for Travel
Use Packing Cubes
First and foremost, packing cubes are a godsend when it comes to heading out on vacation. Your clothes stay nice and organized in your suitcase and it allows you even more space. Yes, I know this isn't technically a wardrobe tip, but it is one of my favorite packing tips. 
Pack 4 Tops
4 Tops. That's it. Bring a black tank, a comfortable knit shirt and a jacket or cardigan. The combination of these can create different looks. 
Pack 2 Bottoms
Bring 2 pairs of pants or shorts (depending on where you are going, the temperature, etc). Mix and match them with the tops you brought and you have quite a few different outfits available. 
Pack 1 Dress/Jumpsuit/Suit
Make sure to pack a nice outfit too! Whether that's a jumpsuit, a dress or a suit, just be sure to have it with you in case you need to dress up.
Workout Gear
If you like to workout, definitely bring your workout gear, but only 1 set.  
Bring Just 2 Pair of Shoes
Okay, because I like to work out while on vacation, I tend to pack 3 pairs of shoes to include my workout shoes, but that is my absolute limit! I bring casual shoes that will be comfortable for any activities that you plan, but also shoes that are nicer just in case.