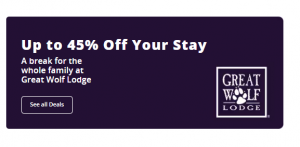 Are you looking for a fun vacation/long weekend idea with the family?! If you are ready to start planning some close to home vacations, how about a fun trip to Great Wolf Lodge?!
Great Wolf Lodge can get pretty pricey though, so one way to save is by checking out Groupon where you can save up to 45% off of your stay.
I have never actually been to a Great Wolf Lodge, but there is one a few hours away from me. I have friends that take their kids all the time and they love it. Have you ever been?