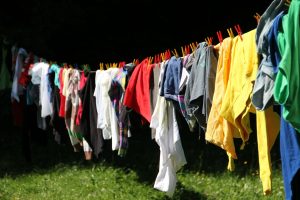 My dryer is having issues right now and yesterday I started hanging clothes on the line for the first time in years. I decided that while I wait for a new dryer, I would save on my electric bill while still getting laundry done. That got me thinking….what can I do to streamline this process. 
I decided to start putting these tips for hanging clothing on the line to dry to save more time and money. These tips also make the drying process go more smoothly!
Tips for Hanging Clothing on The Line to Dry
Before hanging your clothes out to dry, check out these tips:
Find the Right Spot
Finding the right spot for your clothes to hang is key. You want your clothes to be hanging in the sun most of the day for maximum drying benefits. If possible, choose a spot in your yard that gets a good amount of afternoon sunlight. 
Use Clothes Pins
Hanging clothes on the line using clothes pins makes it easier to dry than if you were to fold the clothing over the line itself. Having layers of clothes bunched together slows the drying process. 
Hang Clothing Inside Out
One downside to hanging clothes on the line is that the sun can fade the colors in your clothing. To prevent this, hang the garments inside out so that the sun is only touching the inside of the item. 
The exception to this is with white clothing. Hanging whites right side out is a great way to brighten up the whiteness of the material. 
Hang Pants Upside Down
Pants and jeans often take longer to dry. One way to speed up this process is to hang them upside down using clothespins at the bottom of the pant legs. 
Avoid Hanging Items Stretched Out
If you have leggings, socks, or other stretchy items, be sure that they are not hung while stretched. Avoid stretching waistbands, collars, etc, when hanging. This will prevent your clothes from being damaged.