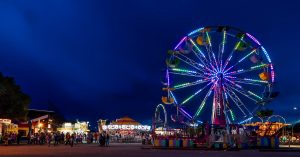 Do you want to take your family to the fair this year? I know that a trip to the fair for the whole family can get really spendy, but don't you worry my budget conscious friends! Today we are going to talk about how to save money at the state fair. 
It may seem like a fair would be a hard activity to save money on, but the truth is, with just a few tips, you can actually do a good job staying on budget while enjoying a day at the fair. 
How to Save Money at the State Fair
Before heading out to a day at the fair, a little bit of planning will go far!
Buy Early Tickets
Most fairs offer discounted pre-purchased tickets. They may offer the deal online, through their Facebook page, or at the office. You'll find that most often, pre-purchase deals save 20% and up. 
Go Grocery Shopping
Okay, this one might sound weird, but it's worth checking out your local grocery store as the ones in my area offer discounted tickets! It's worth trying. 
Check Out Discount Days
The fair in my state offers discount days. One of the days is $2 entry, one of the days is $1 per ride, etc. These days are typically pretty crowded, but sometimes the savings you get make the crowds worth it!
Eat at Home
I have found that filling my kiddos up on a big lunch before we go is a great way to save on the fair food that they typically beg for. Sure, we still end up getting snacks and treats, but if they aren't "starving" when we get there, it helps save on that spendy, almost always fried foods. 
Bring Water
Bottled water is ridiculously priced at fairs and festivals. It is WELL WORTH IT to fill up a water bottle before you go to the fair or you will end up spending a fortune just to stay hydrated.